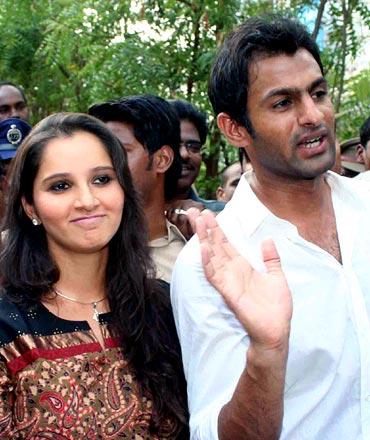 Pakistan cricketer Shoaib Malik, whose passport was seized by police on Monday morning, said he will not leave India till he clears his name in the marriage controversy.
Appearing before the media later in the evening with tennis ace Sania Mirza, who he will marry on April 15, he said he hasn't done anything wrong and asked why Ayesha Siddiqui, who says she is married to him, is not making her claims in public.
Both he and Sania said they are from respectable families, the tennis star adding that "to see my future husband like this [answering questions about marriage] is painful for both the families".
Shoaib was questioned at Sania's residence on Monday morning by a team of police officials, who took his passport and alerted immigration authorities after asking him not to leave India.
"I'm here for the marriage and to clear my name. I'm not leaving the country. Inshallah, I'll clear my name. I have no objection [to police taking the passport] and I'm co-operating with the police and Indian government.
"I have got respect for the authorities and I will do everything to clear my name. I'm ready to face any type of questions. I'll get my passport in the evening," Shoaib said.
Though police did not disclose much about their investigations in the case, registered on the basis of the complaint filed by Ayesha's father MA Siddiqui, officials said Shoaib told them that he was tricked into the marriage.
Asked about Ayesha's allegation that she was pregnant through him, Shoaib replied, "I just want to ask something. I don't know her exactly why she is making these allegations behind the camera. Where is she? Ten years back I was 18-years-old. Find out her age."
He said first she has to prove [the marriage] in a court of law but maintained that the nikahnama is invalid. Better leave the issue to courts, he added.
Sania interjected: "We are all from very respectable families. These are questions people [don't] face before getting married. That is not what we want. We want to clear his name and, as an Indian, it's my responsibility and our responsibility to let police investigate."
She said she and her family have complete faith in Shoaib. "Me and my family have known the truth all along. At no point he kept us in the dark," she said.
She also questioned the nikahnama saying, "If there was no nikah, it cannot be proved. If the court proves, then he will do whatever is required. If it is not proved by them, then we know, our families know what to do."
Sania also asked the media to leave the issue to the court, saying it's not right to discuss it in public.
"Of course I'm upset [to face questions], but we are happy that we are together and we are happy that we are getting married."
Shoaib ridiculed the Siddiqui family's demand for divorcing their daughter before the impending marriage, saying,
"I know only Maha apa (elder sister). Please, for God's sake, how can they ask me to divorce her?"
To a question whether they made an offer of money to sort out the issue, Shoaib shot back saying: "Why one million? Say one billion!"
Sania said there will not be any out-of-court settlement. Maintaining that calling names is not good, she said the chief Qazi of Hyderabad has already held that there can be no telephone nikah.
Again, when asked whether he had stayed with Ayesha in hotels, Shoaib replied he is still in the dark about Ayesha is.
"I have met only 'apa', which means elder sister."
He said his family will definitely be coming for the marriage.
"I want to respect all. I'm not like them. Till (the alleged marriage) is not proved I cannot be touched by anybody," he said.
Asked what are his plans now, he replied that he is waiting for the report on the investigation.
"They are investigating it and I'm sure they would not find anything because I did nothing. Once that news comes then I'll decide what to do," he said.
Sania Mirza and Shoaib Malik address the media in Hyderabad on Monday evening
Photograph: Snaps India