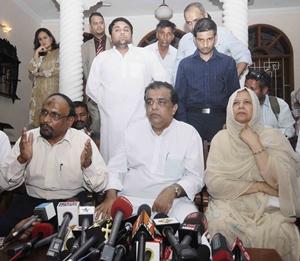 In a dramatic turn around, Pakistan cricketer Shoaib Malik divorced Ayesha Siddiqui, the local girl he married seven years ago, under a compromise worked out by Muslim community leaders.
It clears the way for his marriage with Sania Mirza, on April 15.
Under the compromise, Shoaib will pay Rs 15,000 as maintenance to Ayesha, at the rate of Rs 5,000 per month for three months, as per Sharia (Islamic law), Abid Rasool Khan, Andhra Pradesh Congress General Secretary and a well-wisher of both families, announced at a press conference at the residence of Ayesha Siddiqui.
He also said all the police cases against Shoaib, who had maintained that there was no valid marriage with Ayesha, will be withdrawn, and an application with the police in this regard has already been field.
Ayesha's mother Farisa and Mohammad Shafi, uncle of Sania Mirza, were also present at the press conference.
Shafi and Khan said negotiators worked through the night to work out a compromise between the two families because the controversy was bringing a bad name to the community and religion.
Farisa said, as decided by the elders of the community, "It (compromise) has been done. I am very happy about it."
"All the community leaders had come to him (Shoaib) to do the settlement and he has done it.
"My daughter had to pass through hardships. Finally justice has been done to my daughter. She is relieved and very happy," she said, adding the chapter is closed.
"I only wanted this (divorce). It has been done. I wish them (Sania and Shoaib) well."
Khan said, "Divorce has been settled and done; it was done after the intervention of community leaders. After hearing all three parties we decided that divorce should happen. There was no condition and amount (money) involved.
"Whatever has been done, has been done according to our religion and sharia. After negotiations all through last night, the divorce proceedings happened around 7-8 am this morning in the presence of a Qazi," he said.
Rasool said they had been working for the last five days as the entire community was upset.
"A lot of muck was thrown at each other. There were allegations and counter allegations and it was getting dirty.
"We have not taken sides, and resolved it peacefully. We worked all through last night and about 10-15 people were involved in it. The end result is a happy result," he added.
Rasool said both the families had gone through a very, very rough time.
"Ayesha's father is a heart bypass patient and her elder sister is going through pregnancy," he said.
Sadiqua Babar, a friend of Ayesha, whose father was involved in working out the compromise deal, said it was great relief that the marriage row is over.
"He (Shoaib) signed it (divorce papers) this morning. Everything happened in an amicable manner."
"She (Ayesha) and all of us are relieved that finally it ended. Everyone is happy that the trauma is over," she said.
"My father (Shams) brokered the deal between the two families. There was no money involved, name was involved.
Clearing of her name was very important," she said.
The development brings an end to the prolonged marriage row between the two families.
Ayesha had claimed Shoaib married her over phone and later dumped her due to her weight problems without taking a formal divorce. She had produced copies of the nikaahnamma to support her claim.
Shoaib, on the other hand, maintained that he never committed himself to Ayesha, as he was sent photographs of a different lady during the relationship that grew over telephone conversations and Internet chats.
Ayesha had filed an FIR against the all-rounder alleging fraud and criminal intimidation, which led to his passport being confiscated by the Hyderabad Police for investigations.
Photograph: SNAPS INDIA