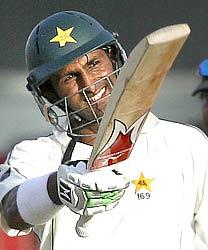 Former Pakistan skipper Shoaib Malik has sent a notice to the Pakistan Cricket Board (PCB) seeking clarifications on its decision impose a year's ban and a penalty of Rs two million on him.
A PCB official, while confirming the report, said the board would soon reply to the notice.
"We will respond to Shoaib Malik's notice soon in which he has sought justification over his punishment," The News quoted PCB's media director Nadeem Sarwar, as saying.
Sarwar also clarified that the notice sent by Malik was not being treated as an appeal against the PCB's ban and fine.
"We are yet to receive a formal appeal from Malik. The deadline for filing the appeals is April 16," he said.
Malik was banned for a year and slapped a hefty fine along with fast bowler Rana Naved-ul-Hasan following the recommendations of an inquiry committee, which was formed to look into Pakistan's woeful performance in Australia.
The PCB had also banned former captains Mohammed Younis and Younis Khan for an indefinite period on the committee's recommendation.
The senior players were found guilty of being involved in 'infighting' in the team and creating rifts among players.
Malik is currently in Hyderabad for his wedding with marriage with tennis star Sania Mirza.