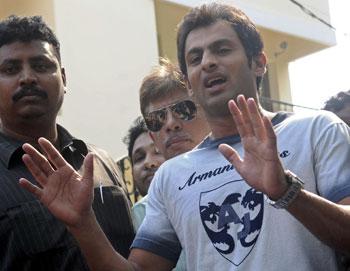 Pakistani cricketer Shoaib Malik, who is all set to marry Sania Mirza in Hyderabad on April 15, can get back his passport in about a week's time after he completes all legal formalities, police said on Sunday.
He has to appear in person before a local court along with city girl Ayesha Siddiqui for closure of the criminal case filed against him by her, a senior police officer said.
"Shoaib's passport is in the possession of a court. Now, Ayesha has given a letter to us seeking withdrawal of FIR against the cricketer. He will get back his passport from the court itself which might take a week's time," Additional Commissioner of Police (Crimes) K Narasimha Reddy said.
Investigating a complaint of cheating against him, the city police on April 5 took away the passport of Shoaib Malik and asked him not to leave the country.
The police had registered a criminal case against him based on the complaint of Ayesha. Shoaib divorced her after initally denying that he had married her.
Narasimha Reddy said they would send Shoaib's case file along with Ayesha's FIR withdrawal application and a report to the court, which might refer the case to a Lok Adalat.
"Shoaib also needs to file a petition with the court for getting back his passport. Both Shoaib and Ayesha have to appear in person before the court or Lok Adalat for closure of the case and he can get his passport only after the case is closed," the senior police officer explained.
Shoaib is slated to marry Indian Tennis star Sania Mirza on April 15.