The lure of money often leads sportspersons to make questionable choices.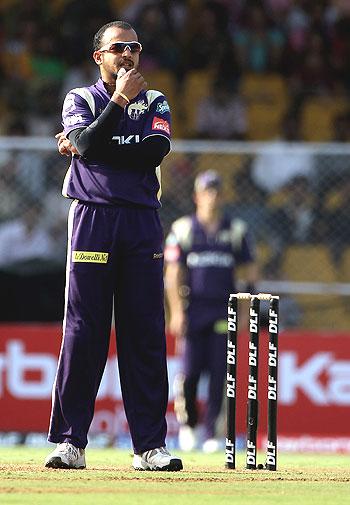 If I was Murali Kartik, the elegant left-arm spinner who plays for the Kolkata Knight Riders in the IPL, I would be asking myself one question: am I a cricketer, or am I a businessman?
Poor soul, he is confused and has been for many years, and he is still asking himself the same questions over and over again. The mental demons probably keep him awake at night. He wants answers but he is not getting them.
Kartik's problem is that he is thinking like a cricketer when he should now be thinking more like a businessman. Let me explain. He made his Test debut against South Africa in Mumbai ten years ago in February 2000.
In a decade, he has played only eight Test matches for India, the last of them being six years ago against South Africa in Kanpur in November 2004. He has played only 37 One-Day Internationals, the last of them against Pakistan in Jaipur, November 2007.
His most recent disappointment was being left out of India's squad for the ICC World Twenty20 in The Caribbean starting on April 30. He is once again disenchanted with the national selectors.
He feels he cannot do anymore to prove himself and he just doesn't know what more he has to do to convince the selectors that he should be an automatic choice for India.
Kartik is 33 years of age -- he is still young for a spinner in international cricket -- but his problem is that he has not changed in his method of thinking with the way the game has changed in the ten years that he has played so little international cricket for India.
It is the value that an international cricketer attaches to his country's cap that is causing Kartik so much anguish. He wants to earn more than the paltry eight Test caps he has been awarded in his decade of disappointment with Indian cricket selectors, and that fierce ambition within him is the reason that he cannot change his way of thinking to how he should be playing cricket in 2010.
The IPL has changed cricket's landscape beyond recognition. There are many winners who are earning huge sums of money. The Australians, Adam Gilchrist and Matthew Hayden, are prime examples. Both of them are 38 years of age and between them they played 199 Test Matches and 448 ODIs for Australia, but they saw the pay cheques in large writing on the IPL wall.
The lure of the dollar for Gilchrist and Hayden changed them from cricketers to businessmen overnight. They could have gone on in their international careers, but the financial incentive was so attractive that for them it was the wallet -- not the cap -- that assumed more importance in their lives.
Kartik has to take the emotion and the sentiment out of his thinking. Once he does this, then two things will happen. Firstly, by adopting a more business-like approach, he will view cricket as his livelihood and for the next six or seven years he can play his cricket for the Kolkata Knight Riders and for Middlesex in England, and he can assess his worth in monetary terms. Secondly, by taking the emotion out of his thinking, the issue of playing for India will not hurt him as much as it is now.
I have learned in life that when you want something so badly, you more often than not don't get what you want. If the wanting becomes too emotional, it has an effect on virtually everything you think about. I have not spoken to Murali Kartik about any of this, but I have read what he says to journalists, and it all comes from his heart, because for him, it is an emotional issue.
He has to move on from his cricketing emotional precipice, and once he manages to do that, he will discover more clarity in his thinking. He should go to England and enjoy playing his county cricket without thinking about his national ambitions; he should let his cricket do his talking.
England's Andrew Flintoff is another example of a cricketer who has put his cricket cap in the wardrobe in his new home in Dubai, and is now wearing a shiny new business cap.
Flintoff is thinking smartly. At the age of 31, he called time on his Test career with England blaming injury woes, but says he is available to play in any of the shortened forms of the game -- ODI and Twenty20. He has left his emotional baggage behind in England and moved to Dubai, where he is marketing himself on the international stage.
Flintoff is a businessman who is playing cricket, not a cricketer who wants to earn business. Murali Kartik should look around him and do some sums. 10 years of blood, sweat and tears for India and all he has to show is eight Test caps! It's time for a change of heart, a change of thinking and a change of cap. It's business now, Murali, not cricket. It's time to look after Number One. 
Alan Wilkins is a TV broadcaster for ESPN Star Sports. His column Inside Edge appears in Business Standard every alternate Sunday.
Business Standard
Source: