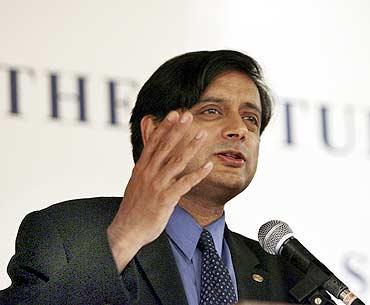 Central security agencies have traced a local phone number from which the alleged death threat from Dawood Ibrahim gang was made to an aide of Minister of State External Affairs Shashi Tharoor.
Official sources said on Wednesday the number used for sending the alleged threat SMS, received by the personal staff of Tharoor, belonged to Delhi circle and the hunt for the sender is on.
Jacob Joseph, Officer on Special Duty with the Union Minister, has alleged that the henchmen of Karachi-based underworld don Dawood Ibrahim have threatened Tharoor to stay out of IPL Kochi team or face death.
He told the media that the Home Ministry and Delhi Police have been informed about the message.
Tharoor has been in the thick of a controversy after IPL commissioner Lalit Modi disclosed that the minister had telephoned him not to reveal details about owners of the IPL Kochi franchise which included Sunanda Pushkar, a close friend of the minister.
Pushkar has been given a free equity of around 19 percent which is valued at Rs 70 crore in Rendezvous Sports World, which heads the consortium that owns the IPL Kochi team.