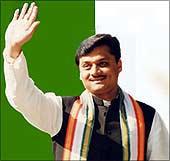 Team Kochi, the latest entrant to Indian Premier League, was put together by Shailendra Gaikwad of Rendezvous Sports World -- at least that's what Gaikwad says.
RSW's bid, of $333.33 million (about Rs 1,476 crore) for 10 years, came about with the help of big-time Gujarati investors with deep pockets. And all seemed fine till IPL commissioner Lalit Modi tweeted about Team Kochi's ownership details last weekend, and mentioned the Dubai-based Sunanda Pushkar in it.
Pushkar, who it was subsequently said had been given sweat equity of nearly 20 percent stake from its share of 25 percent by Rendezvous (which amounts to 5 percent, but this figure has been contested by Gaikwad), is a close friend of Shashi Tharoor, a junior foreign minister who admitted to having midwifed the team. Modi's unspoken accusation was that Tharoor's close friend Pushkar was a proxy for the minister. Since then allegations and counter-allegations have flown thick and fast between Modi and Tharoor.
Things got murkier when RSW started speaking through its spokesman and Congressman Satyajit Gaikwad, who had lost the 2009 Lok Sabha election from Baroda in Gujarat with the biggest margin in the state. On Thursday, Gaikwad alleged that Modi was gunning for Kochi to make them exit IPL and hand over the slot to Gujarat Chief Minister Narendra Modi.
Apart from the obvious names who have been locked in a tussle, there is also Union Agriculture Minister Sharad Pawar, the big daddy of Indian cricket who remains in the background but is nevertheless a major player. For more than two decades Pawar has been a close friend of Team Kochi investor Harshad Mehta's family.
The most important aspect of Team Kochi is that almost its entire $333 million has come from Gujarati investors based in Dubai and Mumbai. Two prominent investors in the team are Atul Shah of Anchor Earth, makers of Anchor Switches, and diamond merchant Harshad Mehta, whose family is the largest exporter of diamonds in India and who holds a personal stake in Team Kochi through Film Wave, owned by Rosy Blue. Both families enjoy a celebrity status in the Gujarati community, and their clout in their respective businesses is awesome.
Atul Shah's father Jadhavji Shah and his uncle Damjibhai Anchorwala are living legends in Kutchi society, with every poor Gujarati boy wanting to emulate them.
Similarly, Harshad Mehta's brother Arun Kumar Mehta's company has a tight grip over the international diamond business. Along with Harshad's Rosy Blue, the two brothers give stiff competition to Jewish diamontaires in Antwerp and Tel Aviv .
According to some reports, Harshad Mehta shifted his base to Dubai due to some serious issues with the revenue department.  
RSW, however, tried to turn the disclosure about Pushkar's sweat equity into a Congress versus Bharatiya Janata Party affair by dragging Narendra Modi into it. Since then, Satyajit, who had all along been vocal with the media, has suddenly been asked to shut up. Obviously, Gujarati investors are no-nonsense businessmen who are in the business for profit and not controversy.
Before Satyajit was eased out -- and replaced by Rosy Blue's K Tahilramani, with Harshad Mehta becoming chairman of the franchise in place of Shailendra Gaikwad -- rediff.com's Sheela Bhatt spoke to him.
In a tape-recorded interview, Gaikwad, defending Tharoor's role, revealed that among other things that the Gujarati investors initially wanted to bid for IPL-Ahmedabad but after Narendra Modi told them that it was being eyed by industrialist Gautam Adani, they bid for Kochi which will debut in IPL 2011.
Can you tell us the story behind Rendezvous Sports World?
RSW is the idea of Shailendra Gaikwad. He runs Pushpa Cricket Academy in Solapur, Maharashtra, and I run Speed Post Cricket Academy in Baroda. We are distantly related. The Gaikwads migrated to Gujarat from Maharashtra in 1734 but we are still connected.
Both of us are cricket fans. I am an ex-cricketer. A year back Shailendra thought of having an IPL franchise, and was after me to own one. He has many friends in Mumbai. One of them is Mukesh Patel of Parinee Developers. Many Mumbai-based businessmen who wanted to invest in IPL were in touch with Patel. They were contacted and many rounds of talks happened. How much money needs to be pumped in was discussed in detail. Shailendra came up with the name Rendezvous Sports World. He had a fascination for Simi Garewal and also her television programme (Rendezvous With Simi Garewal). We set up a  consortium to bid for IPL, as a joint venture. Anchor group's Atul Shah became the biggest partner, with 27 percent share.
How did Shah come into the picture?
We only talked to Mukesh Patel, and he brought in all the others. They are all rich people living in the same area (the tony Malabar Hill and Kemp's Corner in South Mumbai).
They are close friends. We set up a consortium and bid for IPL. Money was not a problem given the creditworthiness of these people. We were supposed to pay only Rs 46 crore as guarantee money to IPL. That money would be set aside from the first year's payment of Rs 150 crore. We needed to give only 10 percent in bank guarantee for $333 million, the total price of our IPL franchise. That was also not difficult. Anchor alone must be having bank deposits worth Rs 5,000 crore! For Shah, that was not the issue. He gave the guarantee money and after that we bid successfully.
Was that a difficult thing to do given you had no prior experience of how the process works?
We had hired professionals to guide us. We had lawyers, solicitors, chartered accountants and marketing experts. We took help from outside to prepare our bid.
Then what happened? Why are you in a mess now?
We got into bad times because IPL is a party of the big boys. We were inconsequential people who won the bid. So, I think, the bid that we won was not appreciated by many. Those people who were thinking that they will win 100 percent, could not get it. There was heartburn.
How did Shashi Tharoor enter this story? You are claming you put together the team with Shailendra. Then, what did Shashi Tharoor do? Gujaratis know well how strong the brand names of Anchor and the diamond industry's Mehta brothers are. They don't need Tharoor.
We won the IPL Kochi bid, and met Tharoor after winning the bid. In this consortium Vivek Venugopal (of Kerala-based Elite group) has 1 percent share. He is from Kerala and is a well-established industrialist. He is a close friend of Tharoor who is a cricket fan. After winning the bid he introduced him to us. We all met. 
You met Shashi Tharoor after winning the bid? After?
Bid jitya pachi malya (After winning the bid, Satyajit says in Gujarati). We were introduced to Tharoor. We thought since he is a leader from Kerala and that too a minister, we should meet him. In future we will have to create a team in Kerala having good relations with the cricket associations in Kerala. We thought Tharoor with his international experience will help us.
(In his statement to the Lok Sabha on Friday, Tharoor said he was proud to have helped the consortium come to Kerala).
You are saying that Shashi Tharoor came into the picture after you won the IPL bid for Kochi?
Yes, he came into picture after we won the bid, not before that.
Are you sure?
Yeah.
How did Venugopal from Kerala come into the picture?
Mukesh Patel of Parinee Developers has business relations with Venugopal. He brought him in thinking that if we keep a Keralite with us we can officially bid for the Kerala team.
Why did you opt for Kerala? You could have gone in for any other state. Why did you not opt for Gujarat, when all the investors are Gujaratis?
Gautam Adani of the Adani Group was already bidding for Gujarat. We could have put up a bid for it but we thought compared to us, Adani is too big. We thought he will put up too high a bid and we will lose our chance, so we went in for Kerala. It's a small state and there were no bidders for Kerala, so we selected it.
What did you do correctly that you won the bid?
We calculated our losses correctly -- how much we will lose and for how many years. Then, we calculated when, what and how we will make money after making a loss for the first three years. These figures helped us bid high. If we had calculated on the basis of making money from the first day our bid would have been quite low. We factored in our losses before deciding on our bid.
Was any kind of influence exerted to win the bid?
No… nothing. It was an open and transparent process.
So how and when did Sunanda Pushkar get the sweat equity?
She is a professional lady. She came to us in January while the bidding was done in March. We came in touch with Tharoor only in March. We have hired professionals and they decided that we will hire Sunanda. She will do media management, brand-building, collect advertisements and get franchisee fees. All these things she will provide for us.
So when you hired her in January…
We have not hired her yet. We have only decided to hire her. We will hire her when we will get the team launched on the field.
You did not know that Sunanda is close to Tharoor or that she knows him well?
We did not know that Sunanda knows Tharoor. We did not know what relation they have. She doesn't live in India.
What is the reason behind Lalit Modi's tweets about Team Kochi?
He tweeted because he was not happy that we got the IPL Kochi team. He wanted the team to be given to Ahmedabad. So he started his efforts to discourage us. His tweeting is part of that.
You are a politician. Don't you think a public figure's standards and a businessman's standards in such matters should be different? When Tharoor is a declared mentor of the team and when you give some percentage of equity to his known friend, why would people not link up the two?
This is narrow-minded thinking. She (Sunanda) is qualified to work professionally. You hire her and in lieu of her service you pay professional fees or shares. This is common in all international businesses. Sweat equity is common.
But you don't allot shares to a minister's friend, no?
We are not concerned whether she is the minister's sister or his girl-friend. We are doing business. Why, if I become a minister tomorrow, can't my architect wife join any consortium to make money? She has the right to earn money. This character assassination by the media just because she is connected to Tharoor, is not correct.
This accusation by the media started because on March 21, Tharoor said he is the mentor of IPL Kochi. He would not have been in the picture if he didn't appropriate the successful Kochi bid. Do you agree?
Shashi followed Venugopal. He brought him into the picture. We met him after winning the bid. We were doing things for the Kerala team and he knew about it.
What kind of help did Tharoor provide?
Nothing. He didn't help us to win the bid.
Then why is he saying he is the mentor of IPL Kochi?
Our bid document was not coming through within the stipulated time limit. So we requested Tharoor. The IPL guys were not talking to us. It was very difficult to meet Lalit Modi because IPL matches were going on. Every day he flies from one city to another. It was very difficult to get hold of Modi, so we requested Tharoor to intervene to get our bid document. He became quite active. So we said he is our mentor and we have his blessings. He is elder to us and has many virtues.
You are a Congressman like Tharoor. Does this bid for IPL Kochi also have the blessings of the Congress party?
When our consortium members decided to invest, they officially met Narendra Modi. They asked him whether they can bid for the Gujarat team or not. Narendra Modi said no. He said Adani is bidding for Gujarat. So we went to Kerala. We also met Sharad Pawar. There is no party politics in the IPL bid. Pawar said we should stick to Kerala.
Is it true that Civil Aviation Minister Praful Patel and Pawar wanted your consortium to leave the deal? A newspaper reported it without mentioning names. 
Absolutely wrong. It's a baseless report. 
What was Narendra Modi's role?
He didn't play any role. We had our doubts about him because we were getting messages from all directions to leave Kerala and go to Gujarat.
Who told you for the first time to give up the Kochi team?
Lalit Modi. He said, 'Leave the bid. I'll give you $50 million (about Rs 220 crore). Let it go to Gujarat.' Since pressure was coming on us we suspected that Narendra Modi was behind it. But now we have realised that Narendra Modi was not behind it. Gujarat Home Minister Amit Shah has clarified it. They have invited IPL Kochi to play in Gujarat. We are satisfied.
Why there is a perception that all the investment for IPL Kochi has come from Dubai?
It is not Dubai money. The money belongs to investors who are paying taxes. Shailendra Gaikwad has made a little investment. We are promoters. We are not investors. We got investors from outside. If we had money, then why would we go to investors?
You were quite aggressive initially about Lalit and Narendra Modi. Today you are softer.
I am a spokesman for the management. Whatever they tell me, I put forward to the media. Here I am not a politician. I am the official spokesperson for RSW.
Why did Lalit Modi soften his stand against RSW?
Modi created confusion. He thought we will get frightened and leave the field. But our consortium members remained united. We came with our story to the media, about how Modi offered $50 million and said we are being harassed and not getting co-operation, so Modi softened. When we came to the media, he came to know that IPL Kochi will not back out.
So, what next? Will Sunanda remain with you?
Of course. She is a professional.
What is the lesson from the Modi-Tharoor row?
By creating confusion with the help of the media there was an attempt to defame us. We have thwarted that effort.
How will you work with Lalit Modi now, with so much bitterness behind you?
We are in the entertainment business. So what if there is bitterness? We are not against IPL. We will strengthen the IPL brand.