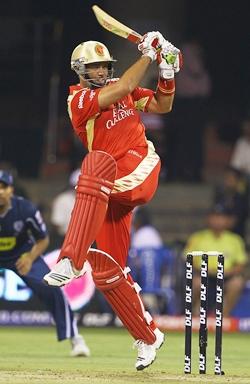 Jacques Kallis continues to be IPL3's most valuable player (as on the morning of 16 April 2010), and there's a good chance that he might end up becoming IPL3's MVP, now that Royal Challengers Bangalore seem assured of the semi-final berth.
Andrew Symonds has claimed the second spot for the first time and, if Deccan Chargers can sneak into the semi-finals, he could challenge Kallis for the top slot.
Yusuf Pathan is dropping, even as Rajasthan Royals' prospects diminish. But take a look at his half-brother Irfan's performance.
Irfan Pathan is amazingly consistent, and Kings XI Punjab's top player right through IPL3.
A dark horse for IPL3's MVP -- and the most popular by an overwhelming measure -- could be Sachin Tendulkar. But Tendulkar is scaling the charts purely on his batting prowess. If he were to bowl a few overs and take a few wickets, he will leave all opposition behind (remember every wicket is worth 20 runs).
If we look down at our rankings, we'll find that the top is made up of players who have won one or more matches for their team on their own (and been the most frequent winners of the Man of the Match award).
So the MVPI is doing a reasonably good job of spotting winners.
The table shows the latest MVPI and PVI (Paisa Vasool Index) rankings for IPL3's 60 best players. Take a look at the paisa vasool index column which measures how much the player is being paid (in US$) for every run (equivalent) scored. Any 'expensive' (>$250,000) player with a PVI below 1000 is great value for money; franchise owners might want to check out their PVI before the next round of IPL auctions!
Note too, in passing, that Robin Uthappa currently has the best strike rate (173.9), while Anil Kumble has the best economy rate (6.2).