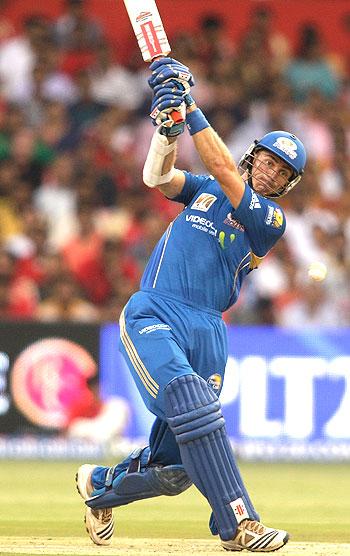 Ryan McLaren was a surprise choice for the man-of-the-match award by all means, especially considering the fact that the others in contention were the likes of Kieron Pollard and JP Duminy.
But McLaren's contribution, in the hindsight, was adequate if not substantial.
The think tank of Mumbai Indians had surprised somewhat by promoting McLaren up the order to open with his captain (Sachin Tendulkar).
The move didn't have the desired impact though as the batsman struggled to break free.
As the field restrictions eased (after six overs), the team from Mumbai had managed just 34 and lost the vital wicket of Tendulkar - without doubt the slowest start in the tournament for the table toppers.
However, the second-wicket stand between McClaren and Ambati Rayudu (46) yielded MI 69 runs off just 31 balls, with the latter palpably doing most of the damage.
McClaren finally managed to cut loose in the 14th over, hitting Kumble for a couple of boundaries, the first past the bowler and the second, a quick glance towards fine leg.
But the introduction of Kevin Pietersen into the attack in the 17th over yielded RCB a wicket first ball, the Englishman catching McClaren plumb in front.
McLaren's 42-ball knock inclusive of four hits to the fence.
He returned to  pick up the vital wicket of Jacques Kallis and finsih with impressive figures of 4-0-21-1.