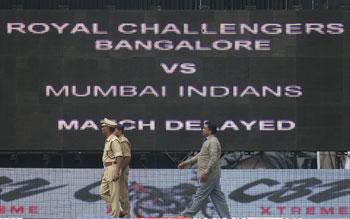 Bomb blasts that wounded 14 people outside a cricket venue in Bangalore were not surprising and reflected poorly on India's capacity to co-host the 2011 World Cup, according to players' union head Tim May.
"Obviously we were disappointed, but to a certain degree not surprised that there was an incident during the Indian Premier League," May, chief executive of the Federation of International Cricketers' Associations said.
"It appears that the actual security arrangements were not of the level to counter this particular risk. That disappoints us significantly," he added.
Blasts from two bombs on Saturday blew off portions of an outer wall at a packed cricket stadium minutes before an Indian Premier League match featuring a raft of foreign players between the Bangalore Royal Challengers and the Mumbai Indians.
Local police, who after the blasts assured players the area was secured allowing the match to start an hour later, than scheduled, defused another three bombs found metres away from the stadium on Sunday.
Authorities have shifted the league's two remaining games from Mumbai.
May said sources within the Indian Premier League had described security arrangements by Bangalore authorities as "a shambles" despite assurances of safety.
"The Bangalore police do not come out of this particular exercise looking too good. It reflects poorly on the Indian Premier League, it reflects poorly on the Indian Premier League security consultants.
"And it reflects poorly on Indian cricket, to tell you the truth and puts a lot of doubt in the minds of players with regards to the World Cup," May added.
The 2011 World Cup will be hosted by India, Sri Lanka and Bangladesh. Pakistan, originally a co-host, had its matches stripped after militants attacked the Sri Lanka team bus in Lahore early last year, killing five policemen and a bus driver and wounding six team members and their assistant coach.
May said despite assurances, players had reported a number of security lapses during the Twenty20 tournament, including being exposed to attacks while being bogged down in traffic.
"It also disappointed us today that the players in their (Bangalore) team bus were put in a situation where they had to travel over one hour and 15 minutes without any security personnel as laid down by the security arrangements," he said.
"Basically the players were left to fend for themselves, which is simply and absolutely unacceptable," he added.