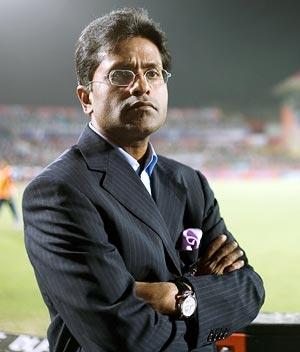 Amid increasing attack on Lalit Modi, a member of the Indian Premier League Governing Council on Friday gave enough hints to its commissioner that he should quit.
"Wisdom should prevail upon him," said Rajiv Shukla, also BCCI vice-president, when asked whether Modi should quit as IPL commissioner.
Shukla, who briefed Finance Minister Pranab Mukherjee on the ongoing IPL controversy earlier in the day, asserted that the Governing Council will meet on April 26 as scheduled.
Modi's fate hangs in balance as the Governing Council is expected to discuss the IPL controversy amid allegations that "betting and money-laundering" had taken place.
The meeting will be deliberating and analysing the details of all IPL franchisees.
However, there are reports that Modi may boycott the meeting.
Sources said BCCI has the authority under Section 32 of its rules to remove Modi even if the Governing Council does not give its consent.
Earlier, Shukla, a Congress MP, met Mukherjee in his Parliament office to discuss the IPL issue and briefed him on the latest developments.
Shukla had called on Prime Minister Manmohan Singh a few times earlier this week on the same issue.
As BCCI vice-president, Shukla has been involved in close-door discussions with the BCCI president Shashank Manohar and vice-president Arun Jaitley on the fate of IPL chief Modi and controversies surrounding ownership of various franchises.
Meanwhile, according to sources, the BCCI officials will boycott the IPL finals and the prize distribution ceremony.