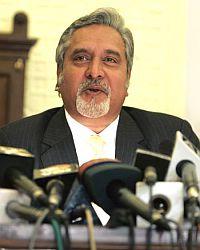 Royal Challenger Bangalore owner Vijay Mallya on Saturday threw his weight behind beleaguered Lalit Modi, and said the Indian Premier League commissioner should be given a chance to defend himself in the wake of the raging controversy.
"Lalit Modi is a friend of mine and I met him at the awards function last night. But we did not discuss the current controversy. I think Modi must be given some opportunity at some point of time to explain himself," Mallya told reporters after meeting former Board of Control for Cricket in India president Sharad Pawar.
"This whole controversy has become an unnecessary toofan. Yes, there may be some questions about the way in which IPL runs. Clearly some governing council members may not be happy. Let all that be properly investigated," he said.
"But to rubbish the IPL as a league then start casting aspersions on owners, alleging black money involvement, alleging funds from tax havens. I think this is stretching things way too far," he added.
The liquor baron also rubbished the match-fixing allegations and said government is welcome to hold an inquiry.
"In case of foreign direct investment in our country, money comes from Mauritius or Switzerland, no body questions it. How can it certainly become a big issue when it comes to IPL investigations?" Mallya asked.
"The finance Ministry I had heard on TV has promised a full inquiry into all this, let the inquiry be conducted. Till then, I don't think we should jump into conclusions," he added.
"Yesterday, even something new appeared about match fixing. This is utter rubbish. Several of our political leaders are calling the IPL gambling den which is completely not true," he said.
Mallya was particularly unhappy at the way politicians are questioning the sanctity of the IPL and using it as a platform to get political mileage.
"If you don't understand success of the world's sixth largest sporting league, they should do their homework. They should look at other compatible league in the world then figure out what the IPL really is. I don't think they even understand the business model of IPL. It is all very easy to make allegations but I think we should all calm down till the investigations is done and then conclude what we need to," he went on say.
"The ultimate part is too many people are jumping on to the bandwagon. Several political parties are now using this as an excuse to make a big issue out of this. Let them wait for an investigation to be completed. "See if there is any prima facie evidence of wrong doing and then do whatever needs to done thereafter. But right now there is too much speculations, things are actually way way out of control," he said.
Modi, who is currently facing the heat from the BCCI and government for financial irregularities in running the IPL, had asked to postpone the April 26 IPL Governing Council by few days but the BCCI has not agreed to to so.
Image: Vijay Mallya