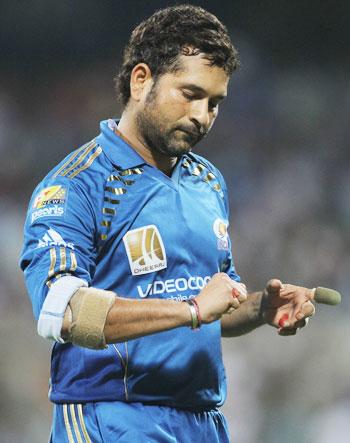 Former India coach John Wright wished iconic batsman Sachin Tendulkar happy birthday and also hoped timely recovery from his finger injury before the Indian Premier League final on Sunday.
"I wish Sachin a very happy birthday. I would also like to wish his wife Anjali and kids happy days ahead," the New Zealander said today.
"I hope he gets fit and plays tomorrow's match. It will certainly be the biggest birthday present for him if his team (Mumbai Indians) win the IPL final tomorrow," Wright told reporters.
MI will take on Chennai Super Kings in the IPL final in Mumbai. Wright remembered his first meeting with a 16-year-old Tendulkar who had toured New Zealand during a Test series in 1989-90 season.
"I had first met him long ago when he was a 16-year-old. It was in Napier Test, I remember of getting him out with a catch... I guess he scored 80," said Wright, who was the New Zealand captain then.
"Then I met him as an Indian team coach, he was 27 then. Now he has become 37. It's been 10 years. I was 46 then, now I'm 56, time surely flies and he is still playing very well. I'm envious of him," the former Kiwi opener said.
He said it's nothing but Tendulkar's passion for the sport and people's love that keeps him going. "He just loves the game of cricket and is proud to represent his country. There is a lot of joy and passion involved towards his success. Also, he has a very special place in everybody's heart in India and throughout the world," Wright said.
"It takes a lot of hard work and passion to keep yourself in shape. He has got the hunger in him going," he added.
Wright hoped that Tendulkar will continue to do well in international cricket and also help India win the 2011 World Cup, to be held in the sub-continent.
"I hope he continues to play well for India and with the World Cup next year, I wish he gets few more centuries to help India win the Cup," Wright said.