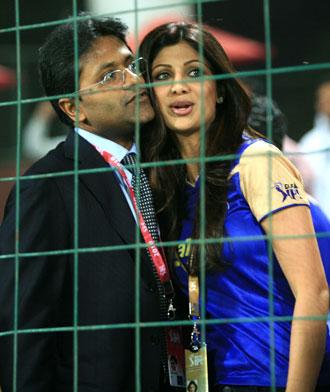 With knives out against Lalit Modi, a host of owners of Indian Premier League franchises, including Bollywood superstar Shah Rukh Khan, on Saturday came out in support of the beleaguered Twenty20 league commissioner.
"IPL controversy: fast, furious & too much noise. like the T20 itself. hope it gets resolved as fast too for our friend Lalit & franchises," Khan said on Twitter.
Terming the IPL awards function on Friday night as "very nice", Khan, co-owner of Kolkata Knight Riders, said "had a great time. could not stay back as had a shoot in the morning. all of us smiled through a tinge of sadness."
Royal Challengers Bangalore owner Vijay Mallya said that despite media bashing it was heart warming to witness applause by the owners and players for Modi at the awards for the fine job he has done.
"It was so nice to see Lalit smile despite all hell breaking loose in the media. U have 2 give it 2 him for making IPL what it is!", actress Preity Zinta, co-promoter of Kings XI Punjab, posted in her tweets.
Another Bollywood actress Shilpa Shetty of Rajasthan Royals said she supported full and fair investigations. "Full and fair investigation of IPL will compel loud mouths 2 shut up by realising true value of 6th largest sporting event in world", Shilpa said in her tweets.
Zinta hit out at the media charging the "ill-informed" media is following a herd mentality. 
She rejected reports that Modi owns a stake in her team through Akash Aroura.
"Who is going to question them and ask for accountability for ruining peoples names? Will the real journalists and respectable publications pls stand up! We all want the truth not assumptions made and disguised as the truth!"
She also said the media should get its facts right and worry about lawsuits for writing nonsense. "Akash Aurora is my close friend and he only attended IPL to support me," she tweeted.
"Breaks my heart to see IPL-bashing by any and everyone," she said, hoping the truth comes out.