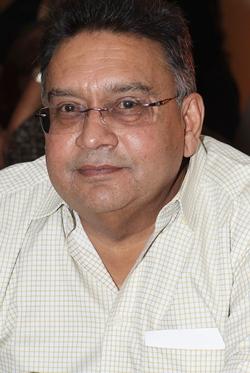 Newly-appointed Indian Premier League interim commissioner Chirayu Amin is no new face to Indian cricket administration.
Besides being a vice-president of the Board of Control for Cricket in India and president of the Baroda Cricket Association, he is also a member of the Twenty20 extravaganza's governing council.
A noted industrialist, he is chairman and managing director of Alembic Pharmaceuticals. As cricket administrator, the expectation is that he will carry the same passion and drive that made his company a leading player in the pharmaceutical industry.
It was not surprising that BCCI utilised the services of the 62-year-old in its marketing committee.
Besides being a shrewd businessman, the Vadodara-based Amin is also an excellent administrator. Proof of that can be seen in the Baroda Cricket Association's success in the Ranji Trophy in recent years.
Amin, who holds a BSc and an MBA, is also chairman of Shreno Ltd., Alembic Glass Industries Ltd. and Paushak Limited. He is director of United Phosphorous Ltd. since July 28, 2006, and an independent Non-Executive Director of Elecon Engineering Company Ltd. since June 29, 1998.
Photograph: IPL/Getty Images