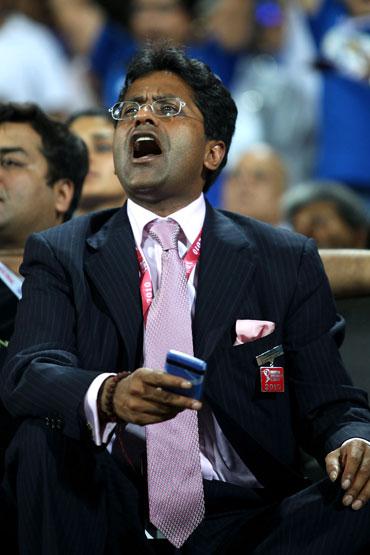 BCCI CAO Ratnakar Shetty said suspended IPL commissioner Lalit Modi did not provide the Board with original papers of some of the contracts, including those of three losing bids in the inaugural IPL and media rights deal with Multi Screen Media.
Asked what are the documents he would be looking for, Shetty said, "The tax authorities and Enforcement Directorate are inquiring for a lot of papers connected with IPL and in some cases we don't have original documents. We have only xerox copies which they feel is not proper."
"According to (IPL CEO) Sundar Raman the original documents are with Lalit Modi. My job is to put up a list of documents that were supposed to be with IPL and original documents obtained in each case," said Shetty who has been entrusted by the Board chief Shashank Manohar to look into the missing documents.
Shetty said no original copies of the three losing bidders of the inaugural IPL were available nor did they have documents of media rights deal between MSM and the Board.
"In January 2008 there were 11 bidders (to own the franchises) and only the original documents of the eight winning bidders are with BCCI. We don't have the original documents of the three losing bidders.
"We only have the photocopies. Obviously those documents should be Modi. I hope Lalit would give them which are the property of BCCI," he said.
"There were some documents which were important like the media rights documents between MSM and BCCI, which was renegotiated in 2009. Original copies of such documents were not available.
"Media rights document was not discussed in IPL Governing Council, it was reported in the BCCI Working Committee that there has been a fresh document entered into between BCCI and Sony Max and amount for which was negotiated. Nothing beyond that," he told CNN-IBN.
Shetty also said BCCI didn't interfere in IPL's working as Modi was also the board vice-president.
"IPL started as a separate wing of BCCI. Separate office was set up and several people employed. Lalit being BCCI vice-president it was a question of authority he had in BCCI that he was running the show. And the administrative wing of BCCI therefore did not interfere in IPL's working," he explained.
Vijay Mallya said he was aware of Modi's relatives having stakes in Rajasthan Royals and Kings XI Punjab and that he was all right with members having conflict of interest provided they declared before hand.
"We knew Chela Ram had family relations with Lalit Modi and there are people in BCCI who had links with franchises. Let's not jump into speculations. I am ok with conflict of interest if they are declared in advance," he said.
Mallya was hopeful that Modi exonerates from all charges but said even if he doesn't do it, IPL should go on.
"I believe no individual is bigger than the institution and so if for some reason, Lalit Modi can't be chairman, IPL 4 should still go on and be a stronger and more successful sporting event," Mallya said.
"As for Modi, he still has 15 days to reply to the showcause and he seems to be confident. Once he replies, if after examining by the BCCI inquiry committee, they are found satisfactory, Modi's suspension can be revoked. I hope he exonerates himself from all the charges," he added.