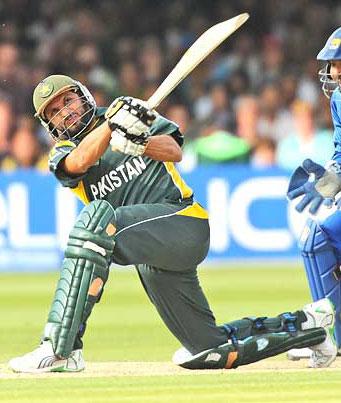 Pakistan Twenty20 skipper Shahid Afridi believes the national team is balanced enough to defend their Twenty20 World Cup title in the West Indies, despite the absence of their most experienced fast bowler, Umar Gul.
Gul, Pakistan's leading wicket-taker in the previous two editions of the Twenty20 World Cup, has been ruled out the tournament after he hurt his shoulder during a training camp at the National Cricket Academy in Lahore earlier this month.
"Umar is an expert of reverse swing. He could have been lethal on the slow pitches in the West Indies, but all the other available players are also equally good and eager to perform in the mega event," The Dawn quoted Afridi, as saying.
He believes that spinners would be Pakistan team's major weapon, and would play a crucial role on the slow pitches.
"Saeed Ajmal, Mohammad Hafeez and Abdul Rehman are all talented spinners and can play the role of match-winner against any team," Afridi said.
He further admitted that being the defending champions, Pakistan would be under pressure to perform well and win, but said: "We have to learn to handle that kind of pressure to give hundred per cent." 
Meanwhile Pakistan coach Waqar Younis insists that the national team needs aggression and firepower to win the forthcoming Twenty20 World Cup in the West Indies.
"I will try to induct the same kind of aggression and fire in the team, which was Pakistan's trademark in 1990s as it is necessary for us to win and retain the title," The Dawn quoted Waqar, as saying.
"The boys have put in plenty of hard work during training camp. They look very much in form and rhythm to deliver and defend the title," he added.
When asked who will be the favourites for the tournament, the 38-year-old said that it would be very difficult to predict a winner. 
"Twenty20 is a different type of cricket where no one can predict anything, but it is important to perform to your potential -- you have to bowl, bat and field well on the given day in order to win the match," he added.
The entire squad, except for fast bowlers Mohammad Sami and Mohammad Asif, and eight officials left from Lahore for the West Indies via Dubai and London.
Sami left for the West Indies from Karachi via New York, while Asif boarded a direct flight from Lahore to London, as he is banned from travelling to Dubai.