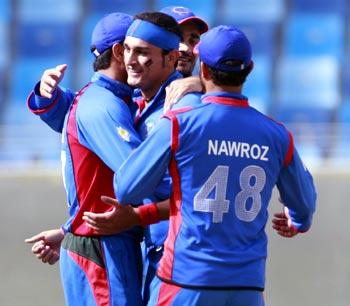 Afghanistan will be going to the World Twenty20 in West Indies to do more than just meet their heroes -- they want to beat them, teenage wicketkeeper Mohammad Shahzad warned.
The Afghans, who qualified for their first major ICC tournament earlier this month, have been drawn with the current top two Test-playing nations, India and South Africa, for the first round of the April 30-May 16 tournament.
Although they will be competing against players they have previously idolised from afar, Shahzad said the Afghans would not be cowed by big-name reputations in the Caribbean.
"We have great respect for them, so obviously we will be very keen to prove ourselves against those two teams," the big-hitting 18-year-old told Abu Dhabi's The National newspaper.
"It's cricket and anything can happen, especially in T20. We have seen Ireland knock Pakistan out of the 2007 World Cup and we have beaten Ireland so many times.
"So it all comes down to how you play -- reputations don't matter on the field. We have a very good team for T20 and our confidence is high. We are not going to the West Indies to socialise, we want to make our nation proud."
Shahzad, who hit an unbeaten 214 as Afghanistan made 494 to beat Canada in a first class match in Sharjah earlier this month, said a personal highlight would be playing against India's captain Mahendra Singh Dhoni in the opening match in St Lucia on May 1.
"Dhoni is my favourite player and I am really looking forward to playing against him," he said of his fellow wicketkeeper.
"I don't like Dhoni just because he is a great cricketer, I like him because he is a wonderful human being.
"I have not had an opportunity to meet him until now, but this is one thing I have always dreamt about. Now I will be getting this opportunity in the West Indies."
Shahzad and his team mates were feted by flag-waving crowds when they arrived back in Kabul after qualifying for the World Twenty20.
"Every time we return home, we are given a grand welcome," Shahzad told the paper.
"We have seen 25,000 to 30,000 people come to receive us at the airport. So their love and prayers have a great motivating effect on the team.
"It is the reason why we want to keep winning -- to bring joy to their lives and, God willing, we will do more of that in the West Indies."
Photograph: Reuters