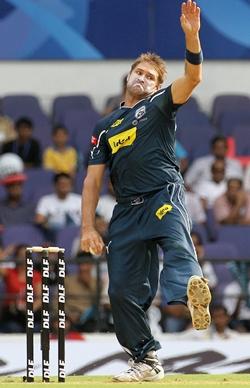 Cricket Australia's National Selection Panel (NSP) on Wednesday announced Queensland fast bowler Ryan Harris will replace the injured Brett Lee in Australia's 15-man squad for the ICC World Twenty20 following confirmation from the ICC's event technical committee.
Lee suffered soreness in his right elbow following Australia's first warm-up game against Zimbabwe in St Lucia.
"During yesterday's game against Zimbabwe Brett developed increasing right elbow pain and by the time he completed his final over the pain was significant, said Australian physiotherapist Alex Kountouris, adding, "At the conclusion of the innings it was obvious Brett had sustained an injury to one of the forearm muscles near the elbow and this was confirmed by a subsequent MRI scan.
"Due to the condensed nature of this tournament Brett will not recover in time to take any further part and has therefore been withdrawn from the squad.
"This is not a recurrence of the elbow injury that recently required surgery but a new injury that will require specialist opinion upon his return to Australia."
Andrew Hilditch, the NSP chairman, confirmed the replacement. 
"While it obviously disappointing for Brett this gives Ryan Harris a wonderful opportunity to join the Australian squad in the West Indies for the ICC World Twenty20 tournament," he said.
"Ryan was very close to selection in the initial 15-man squad. He has been in excellent form for Australia in one-day and Test formats and during his recent stint at the IPL," added Hilditch.