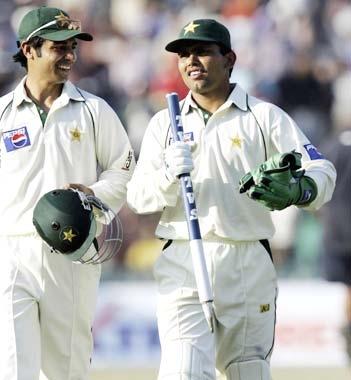 Kamran Akmal can bounce back from a difficult Test match in which he underperformed with bat and gloves, Pakistan captain Salman Butt [ Images ] said on Sunday.
"Kamran has to come up and show his character and make a strong comeback," Butt told reporters after England [ Images ] thrashed Pakistan in the first Test.
"And we believe he will because he has been a great player," he added.
Pakistan lost by 354 runs inside four days at Trent Bridge. The troubled Akmal was out for the second time in the match without scoring and has now gone 10 innings without a Test half-century.
He missed a routine stumping to dismiss Paul Collingwood [ Images ] when on 48, allowing the batsman to go on to 82 and put on a match-turning stand of 219 with Eoin Morgan [ Images ].
He also dropped Andrew Strauss [ Images ] in the first innings and Collingwood in the second.
A spectacular catch to remove Kevin Pietersen [ Images ] on Saturday off an inside to Umar Gul demonstrated his inconsistency.
INVALUABLE EXPERIENCE
Butt defended the 28-year-old Akmal, saying his experience gained from 51 Tests was invaluable to the team.
"It has just been one game," Butt said.
"This happened to him in Australia [ Images ] as well -- after that he has done well. The guy has six Test hundreds against the world's best sides and every time he scores runs Pakistan wins or draws the game.
"So you can't take the credit away from the man. If we've lost the game and he has made a mistake against a good side in difficult conditions you don't ask a youngster to come in and bear the follies of somebody else," he added.
Zulqarnain Haider, 24, is Pakistan's reserve keeper on the tour though he has yet to play in a Test or 50-over One-day International. He averages 34 from his 70-match first-class career.
Akmal averages 32 in Tests and most of his six hundreds in that arena have been when his team have required a special effort. However, they were all scored in the Asian sub-continent where the ball swings considerably less than in England under cloud cover.
Sarfraz Ahmed replaced Akmal for the third Test on the Australian tour in January after a series of wicket-keeping errors in the shock defeat at Sydney [ Images ] but was not picked for the tour squad.
Pakistan now move to Birmingham for the second of the four Tests, at Edgbaston, from Friday.