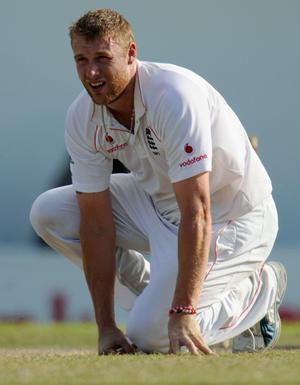 England all-rounder Andrew Flintoff suffered yet another injury setback on Tuesday, days before he was due to return from a year on the sidelines, and is ruled out of action for the rest of the season.
Flintoff has not played for 12 months following two knee operations and after withdrawing from a limited-overs game for Lancashire's second eleven on Monday his county issued a statement on Tuesday saying that after consultation with the player, his surgeon and the county's medical team, he will not play this season.
"Whist Andrew has made significant progress, the combined opinion is that he is not quite ready for a return to cricket," Lancashire cricket director Mike Watkinson told the county's website (www.lccc.co.uk).
"He will continue his rehabilitation into the winter months and we will constantly monitor and review his progress so that he is better equipped for a return to action."
Flintoff, 32, who has retired from Test cricket, had been hoping to feature in Twenty20 action in India, Australia and New Zealand during the southern hemisphere summer but his prospects look slim after the latest in a long line of injury problems.
He will now certainly miss the Champions League Twenty20 in South Africa in September, having been named in Chennai Super Kings' provisional squad for the tournament.