Statistical highlights of the second day's play in the third and final cricket Test between India and Sri Lanka at Colombo on Wednesday.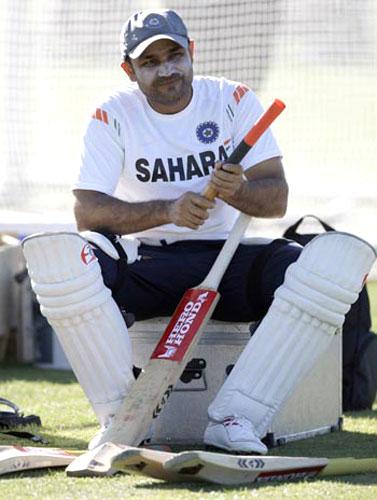 # Virender Sehwag, in his last seven innings, has recorded two innings of ninety-plus and three hundreds. 
# Sehwag has so far hit 17 fours in his 97 not out, taking his tally of fours to over 1,000 - 1005 apart from 79 sixes.
# Sehwag is the leading run-scorer for India in the present series against Sri Lanka - 336 at an average of 112.00.
# Sehwag's aforesaid tally is bettered only by Kumar Sangakkara - 439 (ave.146.33) - in the present rubber. 
# Sehwag's series strike rate of 100.00 is the highest by any batsman. For Sri Lanka, Dilshan's strike rate of 99.01 is the highest in the series.
# Sehwag has posted fifty-plus in ten Tests in succession. Gautam Gambhir and Vivian Richards have recorded fifties in eleven consecutive Tests. 
# Sehwag, in the course of his 97 not out, has become the ninth batsman and the fourth Indian to make 5,000 runs or more in Asia, aggregating 5080 at an average of 62.71 in 52 Tests. 
# Sehwag, during his aforesaid masterly knock, has completed his 7,000 runs in 79 Tests, aggregating 7027 at an average of 54.89. His run-aggregate includes 20 centuries and 23 fifties. 
# Sehwag became the sixth Indian player to reach 7,000 runs or more in Test Cricket. Sachin Tendulkar (13782) is the top run-getter in Test annals. The next five in the list are Rahul Dravid (11483), Sunil Gavaskar (10122), VVS Laxman (7256) and Sourav Ganguly (7212) and Sehwag (7027). 
# Sehwag took 134 innings for accomplishing the feat - the second quickest in the 133-year history of Test cricket, next only to England's Wally Hammond (131). 
# Sehwag has registered his 23rd fifty in Tests - his fourth against Sri Lanka. 
# Amongst the batsmen with 1,000 runs or more in India-Sri Lanka Tests, Sehwag's average of 81.80 is the highest - 1227 in 11 Tests. His tally includes four centuries and four fifties in 17 innings. 
# Sehwag and Vijay, in partnership, have averaged 129.80 (649 for the opening wicket in five innings, including three stands of 100-plus and one 90-plus), which is the highest by an Indian pair with atleast 500 runs for the first wicket. 
# Tendulkar became the first Indian batsman to make 300 runs in the present series - 335 at an average of 111.66, including one century and one fifty. The said performance is his best ever against Sri Lanka. 
# Pragyan Ojha (4 for 115) has recorded his best bowling performance in Tests. 
# Sri Lanka (425) have recorded their highest total against India at Colombo (PSS), bettering the 396 in 2008.