He is known to trouble batsmen with his bowling but on Friday Ajantha Mendis sparkled with bat in his hands and the spinner says it's not only him but whole Sri Lanka lower order is working on sharpening the batting skills.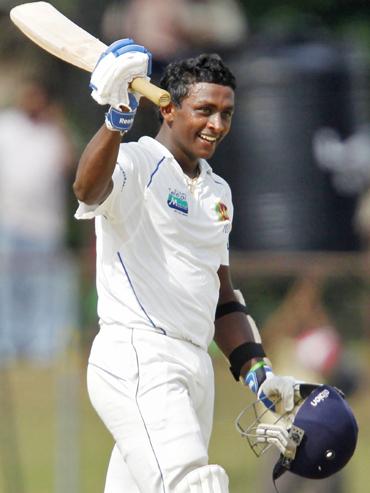 Mendis scored a defiant 78 and along with senior batsman Thilan Samaraweera pulled Sri Lanka out of pits with a 118-run stand for the ninth wicket.
"Of late the Sri Lankan lower order batsmen have been concentrating on batting. They have gone to nets at Khettarama stadium, practiced a lot and as a result of that practice and hard work they are able to get runs when the team requires," Mendia told reporters after day's play.
"When I got into the national side I did not really concentrate much on batting. I was concentrating more on my bowling, but later I thought I must also improve on batting and in net practice also concentrated on my batting. As a result I was able to bat well today."
Paceman Lasith Malinga has also played useful knocks in this series against India. Mendis said he was eager to do well on Friday.
"When I went in to bat I was facing a difficult situation. And I was determined to support Samaraweera in his endeavour to get some runs on board. And I concentrated quite a lot. At that time the wicket did not do much and that also helped me," he said.
"At that time my thought was to get the total to around 150. But since I progressed well I thought of remaining in the wicket and getting as much as possible."
Asked if he thought of scoring a hundred when he got to 75, he said, "My only idea was to accumulate as much runs as possible. Even a single was valuable because that was going to pose problems for the side batting last on the wicket."
Mendis believes Sri Lanka have a good chance to win the series 2-0 but a lot would depend on how they bowl in the opening session.
"I observed that in the morning there is a tendency for the wickets to fall and if Sri Lanka is able to pick up a few wickets in the morning then by about mid-afternoon we should be able to wrap up the game," he said.