Bikash Mohapatra discovers Sourav Ganguly padding up for a new innings.
The Kolkata Knight Riders may not be part of the second edition of the Champions League Twenty20, but their skipper Sourav Ganguly certainly will be there in South Africa.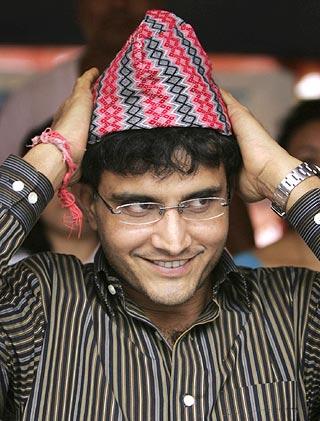 Ganguly will be one of the television commentators for the tournament, which begins on September 10.
"It is an easier job than swinging the willow," he says with a wry smile.
A commentator makes the viewer aware of the nuances in the game. It is the former Indian captain's USP -- his experience on and off the wicket making his observation in-depth and his explanations lucid.
Add to it his forthright opinions and you get a perfect combination.
The conditions in South Africa will certainly be different (read difficult) this time from what it was in the inaugural edition in India last year. Ask Ganguly about this and the response is immediate.
"It will definitely have an impact," he says, adding, "It is not going to be about 200-plus totals like it is on the Indian wickets."
"130, 140 will be winning targets."
He stresses that adaptability will be the key to success.
"The technicalities and the planning have to be different," says Ganguly, quickly pointing out what he believes will be a definite positive in the tournament.
"In this format, the difference is nothing. It'll be an opportunity for youngsters to play in tough conditions, against tougher opponents," he says, adding, "In the IPL (Indian Premier League) they play in familiar conditions and against players who they know well."
"Here they will face the best talents from across the world. And that will help them considerably."
Ganguly gives an example of a player who he believes is the outcome of such an opportunity.
"Look at what it has done to someone like Suresh Raina," he points out. "He excelled in ODIs and T20s and when the opportunity in Tests came, he grabbed it with both hands."
Asked to cite his favourites for the competition, and Ganguly is forthright.
"The South African teams -- the Highveld Lions and Warriors -- have better chances on those pacy wickets," he says, adding, "Even the Australian sides, the Victoria Bushrangers in particular, have a good chance."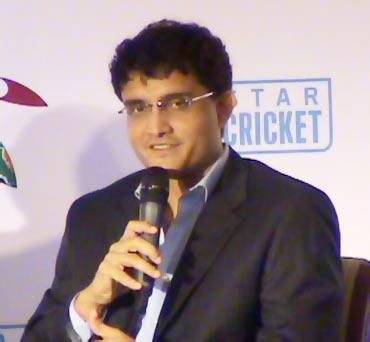 Considering the Indian teams came a cropper in the inaugural edition, which among the three Indian entries -- the Chennai Super Kings, the Mumbai Indians and the Royal Challengers Bangalore -- are the best bet on this occasion?
"Bangalore has players like Dale Steyn, Jacques Kallis, Roelef van der Merwe, and even Ross Taylor and Eoin Morgan for that matter, in their ranks," reasons Ganguly.
"These are players well adept with the conditions there and give Bangalore the edge," he adds.
And before you ask, Ganguly identifies the team that he believes will spring a few surprises.
"Guyana will be the dark horse," he feels, adding, "They should go some distance as they have nothing to prove."