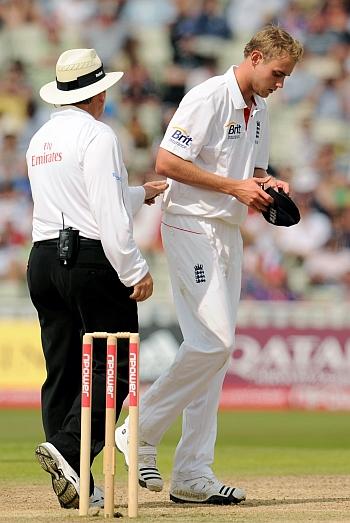 England bowler Stuart Broad has been fined 50 percent of his match fee for throwing the ball at Pakistan batsman Zulqarnain Haider, the International Cricket Council said on Monday.
The punishment was the minimum penalty match referee Ranjan Madugalle could have given Broad, who had pleaded guilty to the level two offence of throwing the ball at or near a player, umpire or official in an inappropriate and or dangerous manner.
"The actions of Stuart Broad were unacceptable," Madugalle said in a statement.
"I understand the frustrations of a bowler in the heat of the moment but as an international sportsman one needs to control these emotions whatever may be the situation and always respect the opponent,"
"Stuart, by pleading guilty, realised his mistake and I'm sure he will not repeat the same again."
Broad, 24, was spoken to by the umpires after launching the ball at Haider and striking him on the shoulder when the debutant batsman was on 22 and frustrating the hosts.
Haider went on to score 88 as Pakistan built a 112-run lead at the end of the third day's play of the Edgbaston Test.
The incident annoyed the Pakistan camp, who doubted the sincerity of Broad's apology soon after the ball had struck Haider.
"Cricket is a gentleman's game but I think they got frustrated," Pakistan captain Salman Butt told reporters.
"It's not good to see people throwing balls intentionally at others and not even excusing (themselves) properly.
"It occurred at a time in the game when Haider was frustrating the England players, before he was out for a battling 88 that gave Pakistan a 112-run lead in the match.
The disciplinary hearing took place after the third day's play. Broad's England and Nottinghamshire county team-mate Graeme Swann tried to speak up for Broad.
"Knowing Broady as I do, he certainly didn't have any malice behind it -- and he can't throw the ball hard enough to hurt anyone anyway," said Swann in an effort to lighten the issue.
"He apologised straightaway. It was just a sign of the frustrations that were going on," he added.