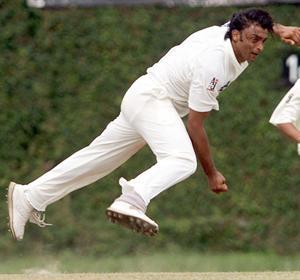 Pakistan's discarded fast bowler Shoaib Akhtar hasn't given up hopes of reviving his international career. He was recently seen practicing with the Pakistan 'A' players at Lahore's National Cricket Academy.
Confirming it, Pakistan fast bowling giant Mohammad Irfan said it was great to have Akhtar drop in at the camp and train alongside them.
"Akhtar played in both games bowling alongside Talha and myself in the first, and Junaid and Tabish in another one. He looked fast and was bowling off his full run-up," Cricistan.com quoted Irfan, as saying.
Irfan also said the 34-year-old looked focused and determined for a comeback to the Pakistan team.
"It's not long before Pakistan play South Africa in Dubai and with question marks over the length of Gul's injury and Asif unable to travel to the UAE, I'm sure that Akhtar is hopeful that they may recall him to fill in for that series," he added.
Akhtar was overlooked for the Test series against Australia and England, but was part of the team that played two Twenty20 games against Australia.
Earlier, last month, Pakistan's fitness trainer David Dwyer had said that Shoaib is an integral part of the national team's ODI and Twenty20 plans.
"Shoaib has lost a lot of weight and that's encouraging. He's definitely not in peak fitness and can't be compared to the fast-bowlers like Mitchell Johnson and James Anderson, as these guys are fit and able to cope with the demands of Test cricket. However, it will take time as it gets more difficult to maintain those fitness levels as life progresses," Dwyer had said. 
Dwyer also stressed that Shoaib needed to persist with his training programme to seek improvements.
"The onus has got to come from Shoaib himself. With every performance, the mind may tick over and ask him if he wants to keep doing it. And for that, he needs to come up with the discipline that yes, he wants to strive for higher levels and keep playing international cricket," he added.
Shoaib was earlier recalled for the Asia Cup, which was played in Sri Lanka from June 15-24.
Injuries forced the PCB to overlook him for a number of important assignments, including the 2009 Twenty20 World Cup in England, the ICC Champions Trophy in South Africa and the twin tours of New Zealand and Australia.