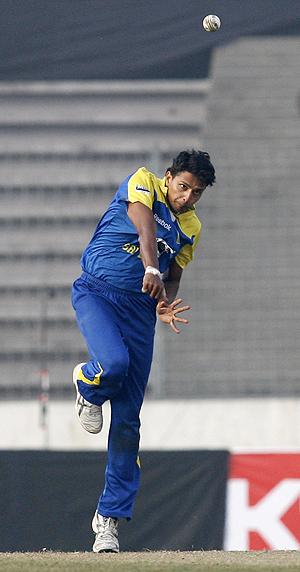 Former India captain Bishen Singh Bedi on Tuesday lashed out at Suraj Randiv for his deliberate no-ball to Virender Sehwag, which denied the Indian opener a hundred in a tri-series match on Monday, saying that he should be banned for five games for his "unsporting" act.
Bedi agreed that it was a deliberate act by Randiv to deprive Sehwag of a well-deserved century in India's six-wicket victory against Sri Lanka in a crunch match at Dambulla.
-Randiv did it deliberately: Sehwag
"That was a poor sportsmanship act by Randiv. It was a deliberate act, no doubt. He should be banned for five games," Bedi said.
Sehwag was just one short of his 13th ODI hundred when Randiv, who had not bowled a no ball in the Test or ODI series this season, bowled one which was hit by the opener for a six.
However, it did not count because the no ball amounted to India's winning run leaving Sehwag on an unbeaten 99.
Bedi also lamented the general lack of playing with the spirit of the game by current generation of players as compared to cricketers of his era.
"Playing with the spirit of the game has gone down now. In our times, it was such an important thing," said the legendary spinner.