It is not the first time the Sri Lankan team has played spoilsport.
Sri Lanka spinner Suraj Randiv deliberately bowling a no-ball and depriving Virender Sehwag of a well-deserved century in the tri-series match in Dambulla on Monday has a few recent parallels.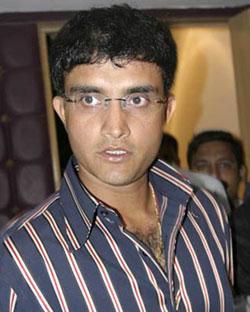 Former India captain Sourav Ganguly was a vicitim of such an unsporting gesture as well.
Speaking to a television channel on Tuesday, Ganguly said this is not the first time Sri Lanka had done such a thing. They did the same to him in a Test match at Kandy, in 2002, where he was left stranded on 98, he said.
"It is not for the first time that Sri Lanka has done this," Dada said.
"I can still remember the Kandy Test in 2002 when India won by eight wickets. They did that to me as well. I was batting on 98. They bowled a wide full toss, we won the match and I was stranded on 98.
"This has happened in the past as well and I am not sure whether this was required in any format of the game," he added.
Besides, Sachin Tendulkar was also a victim in similar circimstances.
The Sri Lankans successfully denied him a century in the one-day international at Cuttack last year. Lasith Malinga sent down a deliberate wide down the leg side that went for four and India won by seven wickets, but Tendulkar was left stranded on 96 off 104 balls.