Lashing out at Sri Lankan spinner Suraj Randiv for deliberately bowling a no-ball and depriving him of a well deserved century, India opener Virender Sehwag said such behaviour was unacceptable.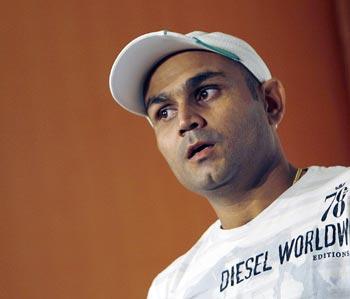 Sehwag was left stranded on 99 when Randiv bowled a no ball and the Indian batsman could not complete his century despite hitting a six during a tri-series match here. 
"If there is a player on 99, it does not mean that you bowl a no-ball and give away four byes. That has no place in good cricket," Sehwag said at the post-match press conference. 
Sehwag said he was sure the no-ball was bowled to deny him the century.
"Why should I look at the video, it was done deliberately. Randiv has not bowled no-balls in one-dayers also. When I was in 99 why was a no-ball bowled. It was not a small margin no-ball but one foot long. I don't know whether the captain was consulted or someone else was consulted," he said. 
Sehwag said the Lankans have done this to Sachin Tendulkar also in the past.
"Sri Lankans did it with Sachin (Tendulkar) also when he was on 99 in the Cuttack match. That happens in cricket. Bowlers try to do that when batsmen are on 99."
Sehwag though said he was not interested in creating a controversy. 
"This is not a controversy. They have done that. No team wants anybody to score 100 against them and they did that. They were happy and we are happy. We won the game and the bonus point," Sehwag said.
Sehwag said he was not aware of the no-ball rule when he hit the six.
Meanwhile, Sri Lankan skipper Kumar Sangakarra said he would discuss the issue with Randiv. 
"Randiv is not that kind of player but such an incident is happening, I will chat with him. This is not in the spirit of the game," he said. 
Sangakkara also felt that if a batsman scores runs off no-ball, they should be counted in his personal score. 
"I think those runs should have gone to batsman's credit. Rules should allow that such runs accrue to batsmen."      The host skipper said the match could have been different had they put up a little more than 200 runs on the board. 
"We were hopeful when India lost three quick wickets but Sehwag batted really well. I think 220-230 would have been a good score here," he said. 
India won the match by six wickets to bounce back in the series. They had lost the opening match by a  comprehensive 200-run margin to New Zealand.