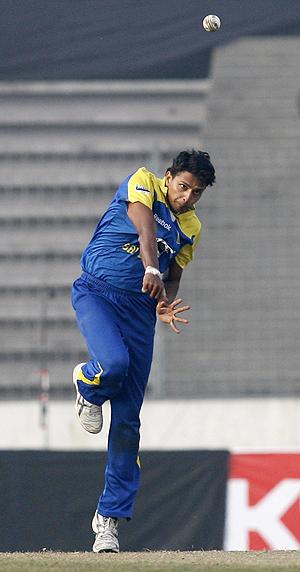 It was Sri Lankan batsman Tillakaratne Dilshan who suggested off-spinner Suraj Randiv to bowl a no ball to deny Indian opener Virender Sehwag his century during Monday's controversial tri-series match in Dambulla, according a newspaper report.
Sri Lanka Cricket, which has ordered an internal probe into the no-ball controversy, is yet to make it report official but according to The Island it was Dilshan who suggested Randiv to bowl a no ball at the fag end of the match which India won by six wickets.
With the scores levelled, Randiv bowled a no ball to deny Sehwag a hundred and the ploy was condemned by everyone as it was not within the spirit of the game. Sehwag was left stranded on 99 though he hit the no ball for a six.
According to the newspaper, Dilshan, who was fielding at cover point, shouted in Sinhalese 'oney nam, no ball ekak danna puluwan' (if you want, you can bowl a no ball).
None of the Sri Lankan players reacted to Dilshan's advice to bowl the no ball, the report said.
At the post match press conference, captain Kumar Sangakkara had given indication that someone may have suggested to Randiv to bowl the no ball.
"If it was deliberate, I will have to have a chat to him (Suraj) and make sure it does not happen again. I will have to see also whether there was any talk about it on the field, prior to that delivery," Sangakkara had said.
Sangakkara also came under the scanner as he was heard instructing Randiv in Sinhalese "If he hits the ball, he gets the run" after Sri Lanka Cricket examined stump microphone audios to determine whether any player had played a role in coaxing Randiv to bowl a 'no-ball'.
Dilshan, who was the captain of the Sri Lankan side in a tri-nation series in Zimbabwe this year after senior players including Sangakkara was rested, is incidentally Sehwag's team-mate at the Indian Premier League side Delhi Daredevils.
Embarrassed by the controversial incident, Sri Lanka Cricket on Tuesday initiated an inquiry under team manager Anura Tennekoon even as Randiv and top SLC officials offered apologies to calm the furore.
The apologies prompted the Indian team management to declare the episode a "closed chapter" while the BCCI also made it clear that it would not pursue the case any further.