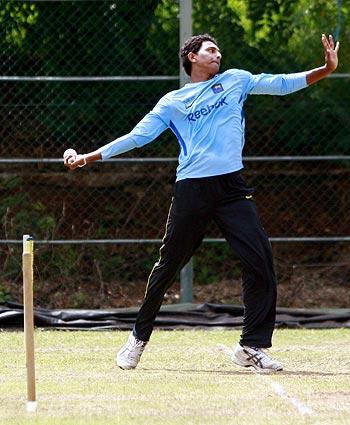 Miffed by the no-ball controversy, the Sri Lankan cricket board on Wednesday cracked the whip on its players by suspending spinner Suraj Randiv for one match and imposing a fine on Tillakaratne Dilshan for his role in depriving Indian opener Virender Sehwag a century.
Captain Kumar Sangakkara was also reprimanded and has been advised to ensure that repetition of such incidents do not occur in future.
"Suraj Randiv has been suspended from the next match against New Zealand tomorrow and his match fee for the India vs Sri Lankan match on August 16, 2010, has been forfeited," SLC said in a statement.
"TM Dilshan's inference in this issue has resulted in his match fee for the same match also being forfeited.
"Furthermore, captain Kumar Sangakkara, too has been advised to ensure that repetition of such incidents do not occur, where disrepute will be brought to the game of Cricket, affecting the spirit of the game," the statement added.
The decision to take disciplinary action against the players was taken by the six-member committee which meet this afternoon to take action on the recommendations of team manager who probed the 'no-ball' controversy.
"Sri Lanka Cricket is extremely proud of its team and their achievements over the years. It is of paramount importance to maintain the discipline of the Gentlemen's game, especially with Sri Lanka Cricket being winners of the 'ICC Spirit of the Game' award for two consecutive years," the statement said.
"As such Sri Lanka Cricket has taken a stern decision against Suraj Randiv and T M Dilshan, for their actions during the 3rd ODI of the Tri-Series held on August 16, 2010, between India, in Dambulla, wherein Virender Sehwag was deprived of scoring his century due to the delivery of a no ball by Suraj Randiv," it added.
Sehwag was just one short of his 13th ODI hundred when Randiv, who had not bowled a no ball in the Test or ODI series this season, bowled one which was hit by the opener for a six.
However, it did not count because the no ball amounted to India's winning run leaving Sehwag stranded on an unbeaten 99.
Embarrassed by the 'no-ball' controversy, Sri Lanka Cricket on Tuesday initiated an inquiry into the incident by team manager Anura Tennekoon even as the bowler and top SLC officials offered apologies to calm the furore.
The apologies prompted the Indian team management to declare the episode a "closed chapter" while the BCCI also made it clear that it would not pursue the case any further.