Graeme Smith will step down as captain of South Africa's One-Day International and Twenty20 teams in order to prolong his career, he said on Wednesday.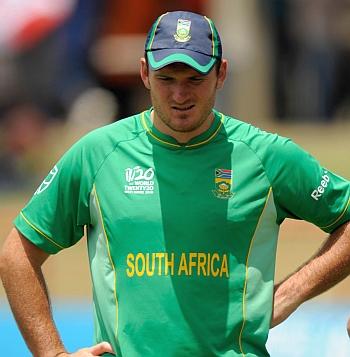 The 29-year-old told a news conference in Johannesburg that he was relinquishing the Twenty20 captaincy with immediate effect but would lead the ODI side through to next year's World Cup in India, Sri Lanka and Bangladesh.
"I am going into my ninth season of international cricket - eight of which have been as captain," said Smith.
"It is my intention to play for another five or six years and I know in my heart that I can only do that if I give up some of my current responsibilities."
The opening batsman took over the captaincy from Shaun Pollock in 2003 after South Africa's early exit from the World Cup they hosted and has led the team in 123 ODIs, winning 75 of them.
Smith said he would still be available for South Africa in all formats of the game.
The left-hander has joined the likes of Australian captain Ricky Ponting and India batsman Sachin Tendulkar in downgrading his involvement in the shortest version of the game after appearing in 27 Twenty20 internationals.
There is no obvious succesor to Smith.
All-rounder Jacques Kallis has led South Africa in 10 ODIs but is a reluctant captain, while wicketkeeper Mark Boucher's place is in jeopardy heading into the World Cup.
Off-spinner Johan Botha led South Africa to an impressive series victory in Australia in 2009 but has struggled to maintain a permanent place in the team after being reported for an illegal bowling action.
"There are several players emerging within the squad to take on leadership roles. Making the announcement now will allow the time and development necessary to ensure a smooth transition," Smith said.
"I remain passionate about the captaincy and after the World Cup I will continue to lead the Test team with pride.
"I see myself playing for a long time still and hope to really add value as a batsman after these six months, to maintain the high standards of performance I have set."