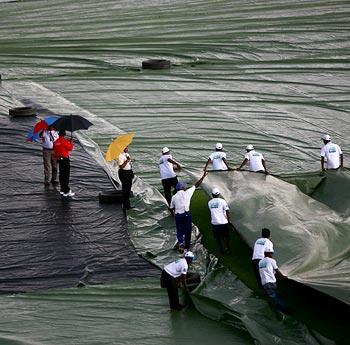 The tri-series match between New Zealand and Sri Lanka was called off without a ball being bowled due to persistent rain, in Dambulla, on Thursday.
The match will have a fresh start on Friday, which is a reserve day. There will also be a fresh toss, the organisers said.
Heavy rain lashed the Rangiri Dambulla International stadium when the match was about to start at 2:30pm local time, after New Zealand captain Ross Taylor won the toss and elected to bat.
Anticipating rain, the ground staff had kept most of the ground, including the pitch, under covers and there was a ray of hope for a truncated match after the downpour stopped for a while at around 4pm local time.
But the heavens opened up again and with rain persisting the umpires called off the match at around 6.20pm.
The umpires had earlier kept 8.15pm as the cut-off time, but seeing that there was no sign of rain abetting, they called off the match.
At the end of the first half of the tri-series, New Zealand and India are on five points with one win each from two matches and a bonus point.
Sri Lanka are on four points following their opening match win over New Zealand after they failed to get a bonus point from that victory.
Sri Lanka took the field against the backdrop of off-spinner Suraj Randiv being banned by their cricket Board for bowling a no-ball off the last delivery of their match against India on Monday to deny Virender Sehwag a century.
A six-member committee of Sri Lanka Cricket, headed by its chief D S de Silva, also docked senior batsman Tillakaratne Dilshan his entire match fee after local media reported that he suggested Randiv to bowl the no-ball.
Captain Kumar Sangakkara was also warned to ensure that such incidents do not happen in future.
India won that match by six wickets but Sehwag was left stranded at 99 though he hit the no-ball for a six.
After the match, Sehwag slammed Randiv for deliberately bowling a no-ball. Randiv later apologised to Sehwag and Sri Lanka Cricket officials did the same to the Indian team management, which declared the episode a "closed chapter".