Pakistan staggered across the finish line in the third Test at the Oval Saturday to complete a four-wicket win over England which encapsulated both their brilliance and their fragility.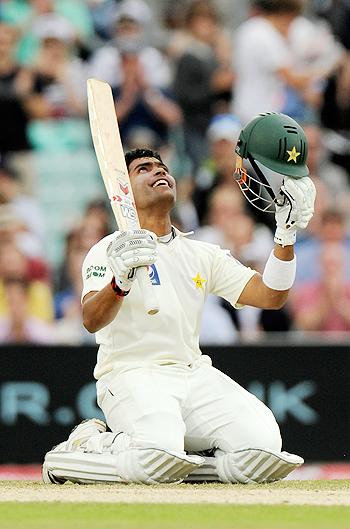 After a flying start in search of a victory target of only 148, the least predictable team in world cricket needed 24 runs to win with six wickets remaining and more than a day to spare.
Azhar Ali then ran himself out for five, their premier batsman Mohammad Yousuf was yorked by James Anderson for 33 and Kamran Akmal misjudged a straight delivery from Graeme Swann and was lbw without scoring.
Three wickets had fallen for eight runs and, with a capacity weekend crowd roaring them on, England kept Pakistan scoreless for a further 27 balls before Umar Akmal (16 not out) and man-of-the-match Mohammad Amir (four not out) eventually saw their team home 40 minutes before tea.
Pakistan now have the opportunity to share a series with each of the two teams who will conTest the Ashes in Australia this year. They drew 1-1 with Australia and can square the four-match series against England if they win the final Test starting at Lord's next week.
Pakistan captain Salman Butt, who took the attack to the England bowlers to top score with 48, said his team had the ability to win at the venue where they captured the Twenty20 World Cup last year.
"This team has got the potential," he said.
"We dedicate this victory to the people who have been affected by the floods and we look forward to winning another game and giving them a present in the shape of a drawn series."
YOUSUF COMEBACK
Pakistan reached 300 for the first time in the series in their first innings at the Oval, with former captain Yousuf playing the anchor innings of 56.
Yousuf, returning to the team after the Pakistan Cricket Board rescinded an indefinite ban following their team's woeful tour of Australia this year, looked a class above his team mates with his unhurried elegance in both innings.
Wicketkeeper Kamran Akmal, dropped twice from the team this year, clung on to eight catches and the Pakistan ground fielding and catching was much improved after dismal performances in the first two Tests.
The Test was won by left-arm fast bowler Amir, who returned his best Test figures of five for 52, and spinner Saeed Ajmal. The pair took for six wickets for 26 in a sudden England collapse Friday evening
Amir reverse swung the ball at high speed from around the wicket while Ajmal bamboozled a series of England batsmen who were unable to distinguish his doosra from his standard off-spin.
Now it is England who are under pressure as captain Andrew Strauss, who scored 15 and four and dropped a catch at slip, conceded.
"We can't run away from the fact that we lost the game with the bat," he said. "We always knew that Pakistan were a dangerous side and capable of playing very good cricket.
"But we need to do better than this, learn some lessons from it and come back strong at Lord's."