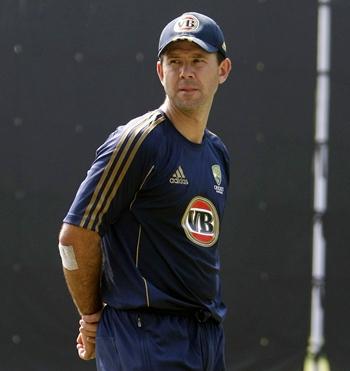 Australia captain Ricky Ponting on Monday attempted to diminish the Ashes fervour by stating that his team is desperate to triumph in India.
"It's important to beat them, a rivalry is a rivalry, and they are the No 1 team in the world. You have to judge yourself by them," he said in Brisbane.
Australia's clash with the world's number one Test team begins with the first Test in Mohali, on October 1, and second Test in Bangalore from October 9, along with three limited-overs matches later in the month, at Kochi, Vishakapatnam and Goa.
Ponting said the teams had a few controversial clashes on the field in the past but all that is forgotten now.
"They've got a few prickly characters that have sort of got under our skin a little bit, but we have to get over all that stuff. When things like that happen, it makes everyone else just want to beat them, there is more motivation. But really, it's all buried, done and dusted," he said.
- Aussies were busy writing books, while we prepared: Harbhajan
He warned his team against focussing too much on their Ashes clash against England later this year, saying the first priority is to beat India in India.
"We have to make sure we don't get too Ashes-focussed," he said.
His deputy, Michael Clarke, also echoed Ponting's sentiments, saying India are one of the toughest teams to play.
"I think playing India anywhere in the world is very tough, let alone playing them in their own conditions."