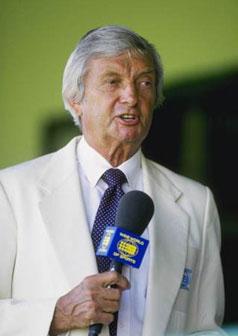 Former Australian cricket captain and famed commentator Richie Benaud's childhood home at North Parramatta in the western half of Sydney is facing the possibility of being turned into rubble.
Benaud grew up practising his googly and top-spinners in his western Sydney backyard, but now developers want to bulldoze the Benaud family home and transform it into a two-storey duplex.
The Parramatta Council expects a formal proposal for the Sutherland Road property to be lodged within weeks.
Councillors unanimously sought an interim heritage order from the State Government in a bid to preserve a part of their community.
Deputy Lord Mayor Chiang Lim said there was no way the council could legally reject the new proposal on the grounds that it was a site of "cultural significance".
Instead the council wants it to be listed as an important heritage site to prevent the bulldozers from moving in.
"We consider Richie Benaud a son of Parramatta. Not only that, he is also an international son - a world-class cricketer," the Herald Sun quoted Lin, as saying.
The Benaud family sold the home in 2003 to former lord mayor, now Minister for Western Sydney David Borger, who sold it to the developers.
A spokesman for Planning Minister Tony Kelly said the Heritage Branch was yet to receive the application but would consider it.