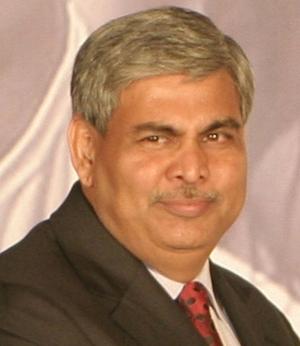 The Board of Control for Cricket in India (BCCI) on Saturday threw its weight behind secretary N Srinivasan and rejected suspended Indian Premier League (IPL) chairman Lalit Modi's allegations that the senior official fixed the 2009 players' auction.
BCCI president Shashank Manohar told reporters after the Working Committee meeting in Mumbai that Modi's accusations against Srinivasan, who owns the Chennai Super Kings team, are "blatant lies".
"I can produce papers which prove that the charges levelled by Mr Modi against Mr Srinivasan are blatant lies," Manohar said.
Asked whether these papers were tabled at today's meet and accepted by the committee members, Manohar merely said, "yes".
Two days ago Srinivasan, had rubbished reports that he tried to 'fix' the players' auction and insisted he won the bid for star England all-rounder Andrew Flintoff "fair and square".
A television channel had claimed that Srinivasan, in connivance with Modi, tried to fix the bid for Flintoff in the Super Kings' favour.
The channel had quoted an email purportedly written by Modi to Srinivasan, which read: "what a nightmare to convince them not to terminate (Sohail) Tanvir and also not to take Flintoff. (Shane) Warne went off the handle. But have managed it by using stick and carrot strategy. Thus they have US$ 1.875 million. Much love Lalit".
Warne is the captain-cum-coach of Rajasthan Royals.
Srinivasan, refuting the charges while talking to another television channel, had said he didn't do anything wrong and his franchise outbid Rajasthan Royals as only they had the full purse of US$ 2 million.
"I didn't need anybody's favour. Rajasthan Royals bid for US$ 1.5 million for Flintoff, I beat them at US$ 1.55 million. So where is the deal? How can I have any deal? How can Modi have control of Shane Warne unless he is the owner of the Rajasthan Royals," he had said.
"Hundred per cent I'm telling you, we did nothing wrong. We won fair and square. We were the only one who could have bought new players because I had the full purse. I didn't need anybody's favour," the BCCI Secretary had said.
"The Chennai Super Kings is the only team which had the US$ two million in the purse. Everybody else had less, so we didn't need anybody's favour to buy Flintoff."
Incidentally, this is not the first time that Srinivasan has found himself in a controversy. A few days back, the BCCI secretary was accused of 'fixing' umpires for Chennai Super Kings matches during the IPL.
The video of the players' auction was shown to the Working Committee members at the meeting, said former India captain Dilip Vengsarkar, who is Vice-President of the Mumbai Cricket Association.
BCCI chief Manohar also said he is yet to decide when to press criminal charges against Modi as authorised by the Board's Emergency General Meeting (EGM) on July 3.
"I will decide when to press criminal charges against Mr Modi and I will inform you (accordingly)," he told reporters outside the BCCI headquarters.
The only other matter taken up the meeting was the annual accounts ahead of next month's AGM, the Board chief said.