Former captain Javed Miandad on Monday expressed his desire to coach the Pakistan cricket team once again if the PCB decides to replace the accused players and the management in England in the wake of the match-fixing scandal.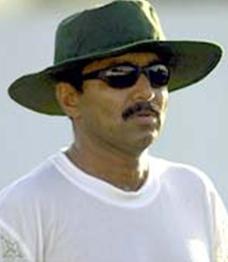 Miandad, a veteran of 124 Tests, said that he was ready to step in and assist the Pakistan Cricket Board (PCB) in the midst of the biggest fixing scandal to have hit the world cricket.
"I can take charge and manage things but first the board has to recall the players accused of spot-fixing and the present management from England. We need to field a new look side and new management for the One-Day series in England," Miandad told PTI.
The former batting great, who is now the director-general of cricket in PCB, said he had aired his mind and now the ball rests on the board's court.
"I am always there for Pakistan cricket and these latest spot-fixing scandal has hurt me immensely. It is damaging for Pakistan cricket and the board needs to steps of its own to set things right," Miandad said.
Miandad, who was coach of the national team thrice in the past, said PCB should immediately recall those players from England who were under the scanner.
"They are still not proven guilty but given the kind of pressure they would be under at the moment and considering the pressure there will be on the team, the sensible thing is to call them home now," he said. He also felt that the entire team management needed to be replaced immediately as it had failed to prevent the occurrence of such a situation.
"I don't want to say much now but it is obvious the management failed. We have enough talent in Pakistan to field a new look side in the ODI series. We should make a fresh start and try to clear this tainted image," Miandad said.
Miandad, however, declined to make any comments when asked if he felt it was time for PCB chairman Ejaz Butt to resign.
"Look I don't want to go into that. The chairman has been appointed by the chief patron of the board and only he can decide who will run cricket affairs," he said.
"I am a member of this board and I have the interest of Pakistan cricket at heart. That is why I am suggesting these radical steps. The investigations will go on but we need to understand that we can't carry on playing like this in the ODIs with all this pressure on the team," the former captain added.