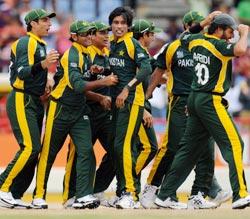 'Spot-fixing' has emerged as the latest threat to the integrity of cricket after the match-fixing scandal which rocked the game 10 years ago.
British police arrested a 35-year-old man on Saturday on suspicion of conspiracy to defraud bookmakers after a newspaper report that Pakistan pace bowlers Mohammad Aamir and Mohammad Asif had bowled three deliberate no-balls in the fourth Test against England at Lord's.
WHAT IS 'SPOT-FIXING'?
'Spot-fixing' involves a player agreeing to perform to order by pre-arrangement. For example, a bowler might deliberately bowl consecutive wides in his second over or a batsman could make sure he does not reach double figures.
Twenty20 cricket is particularly susceptible because so much happens so quickly that individual performances can soon be forgotten or dismissed as inconsequential.
Tim May, the chief executive of the international players' union FICA, is one of several influential figures in the game who believes that the number of Twenty20 matches now being played could tempt players to take money from bookmakers in return for 'spot-fixing'.
WHO BENEFITS?
Betting on cricket matches televised in the Indian sub-continent is a hugely lucrative business. Fortunes can be made if a gambler knows in advance what a particular bowler or batsman is going to do. Bets can be placed on every delivery.
Only betting on horse racing at trackside is allowed in India but in practice around half of a market worth billions of dollars is estimated to be illegal betting, mostly on cricket.
WHAT EVIDENCE IS THERE OF 'SPOT-FIXING'?
Rumours have abounded since the advent of the Indian Premier League (IPL) two years ago although nobody has ever been charged. During last year's Ashes tour of England an Australian player reported that he had been approached by a suspected illegal bookmaker in the team's London hotel.
Former England captain Michael Atherton said in a newspaper column earlier this year that one leading former international had told him "categorically" that 'spot-fixing' was a regular occurrence.
Former Pakistan captain Rashid Latif told Reuters this year that he knew of match-fixing in the now defunct Indian Cricket League.
WHAT WAS THE MATCH-FIXING SCANDAL?
Three international captains Hansie Cronje (South Africa), Salim Malik (Pakistan) and Mohammed Azharuddin (India) were banned for life in 2000 for helping to influence the results of matches.
Match-fixing had become established in One-day Cricket in the 1990s and suspicion centred, in particular, on the one-day tournaments staged at Sharjah in the United Arab Emirates.
As a result of the scandal the International Cricket Council (ICC) founded its Anti-Corruption and Security Unit (ACSU) to monitor all international matches. The ACSU monitored the IPL tournament in India this year but not the second edition in South Africa last year because the Indian board thought the fee charged by the ICC was too high.