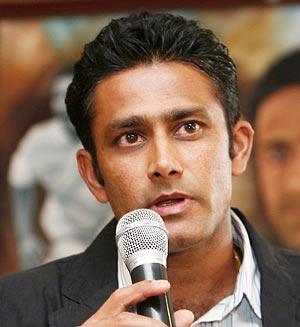 Former India skipper Anil Kumble hit back at Australian captain Ricky Ponting, saying spot-fixing is not limited to subcontinent but its a worldwide problem.
Indian spin legend Kumble, speaking exclusively to CNN-IBN's Rajdeep Sardesai says that the forthcoming One-Day International series between Pakistan and England should be stopped.
Anil, how are feeling today? When the bowlers are doing deliberate no-balls during matches, spot-fixing. Are you surprised? Have you heard of this in the past or is this something that has taken you aback?
It does shock me totally but since the match fixing allegations creeped up in 2000 and then the anti-corruption unit which was put in place by the International Cricket Council (ICC), there is an education programme by the Anti-Corruption Unit (ACU) which details out the spot-fixing and these other details that how someone can approach a cricketer, so this is a part of every cricketer today, but what Pakistan lacks today is leadership.
If you look at the Pakistan Cricket Board (PCB), Shahid Afridi was caught tampering the ball in Australia and then he comes to England as captain of the Test team and after one Test match he says I've had enough of cricket, I quit and then Salman Butt takes over and see what happens…so if you look at the leadership within the team, that's not there, so that's probably the difference.
As for the no-balls, do you believe that this is the easiest thing that a bowler can do in terms of spot-fixing and do you believe this was happening all these years and we didn't know about it? Did you have a suspicion in any of the matches you played in the last 10 years that spot-fixing was going on?
I'm not sure and I've not had an issue with that and I never suspected anyone for bowling a no-ball but when u look back and think when all those clippings were shown, saying that this would happen on the first bowl of the third over bowled by [Mohammad] Amir, obviously the captain must know that Amir would bowl the third over and then he bowled the first ball which was an obvious no-ball. It is innocuous that the ball that he bowled was wide outside the off stump where the batsman would never look at to play the ball, but the unfortunate, that once this is exposed people will start looking at cricket in a suspicious way.
One thing that really hurt me, when all that match fixing allegations came out in 1999-2000 was that every cricketer was looked at by the same microscope...saying that all of you are considered potential match-fixers, that's something which really hurt me, now again after this people would suspect and that should not happen
In the last 10 years, have you ever suspected anything even while playing against Pakistan that something could be wrong somewhere?
Not a spot-fixing and you could look back and think when all these allegations come out that yes this might have happened. But never suspected anything
Is there a vulnerability among the young players? You play the IPL, you crossing the generation, do you believe that the Indian young cricketers will once again be vulnerable like the Pakistanis were? Is that a real threat?
Threat is temptation. The temptations are going to be there, the more you play the more hype you get and today if you look at any young player who plays a brilliant knock in an IPL is treated as the next greatest Indian cricketer, so all these factors add up. But having said that you need a lot of hand holding and like there was a senior group which did that and that's where BCCI in principle has agreed and we need to sit down and work on how to take this forward. But it is essential because when a 16-17 year old gets into an IPL, he doesn't bother about the education he needs to undergo, so that goes for a six. It certainly helps you resist the temptations and keeping the balance because when you take key decisions you are all alone.
Do you believe that spot-fixing could take place in India?
Yes, it can happen not just in India but anywhere in the world, its not that temptations are only for Indians and Pakistanis, it can be for anyone. It's a world problem, that's the reason when a Hansie Cronje came out in the open and confessed nobody believed it because he was not an Indian or a Pakistani, so I don't agree to that.
Yes, we need to be cautious in India but having said that the problem between India and Pakistan is totally different. If you look at the Pakistani cricketer today there is no guarantee that Pakistan would play any cricket at all because if you look at their calendar in the last one and half years they have never played in Pakistan and this was the first opportunity they had of playing a Test series away from home in England, so for them they were only looking short term and never looked at long term. In terms of Indian cricketers they have the IPL and also the system itself is pretty strong, but you need to be careful.
In and around any team in the subcontinent, there are lot of agents who are coming out, people who have access to the players. Is this in itself is creating a parallel world of cricketers? There is a possibility of this happening in India!
Oh yes, there is a temptation, today's young generation of cricketers before even representing India they would have already signed by an agent so it's totally different. Today the way cricketer looks at the career today is very different to how I looked at a cricketing career 20 years ago so we need to accept that. It's not a bad idea for BCCI to look at registering all these agents, so there is some control on that.
Do you believe the One-Day International series between Pakistan and England should go ahead?
No I don't think so. I don't think it should go on because there is a lot of cloud around Pakistan cricket at the moment and that should be cleared before going ahead.
And if the Pakistan players are found guilty, do you favour a life ban?
Yes, I would. Till the allegations are proved they should be stopped because as long as they are playing there will be doubts lingering in the minds and I am sure any cricketer will not be comfortable.
Have you ever heard about the rumours that players have been approached in the IPL?
No, Never!
In the era of Twenty20 cricket, hasn't spot-fixing become easier?
More number of games, so more opportunity. That's a concern and that's something we need to start addressing. It can only happen from top down in India, I don't think it can happen from bottom up it has to happen from top down.
Final word Anil, do you feel at some stage that I could have made more money by being a spot-fixer? Do you feel you've been let down by some of your colleagues in the 1990s and today by some of the Pakistanis?
Yes, if you look back when you go into a game and you think all 11 players are going to win a match and if 1 or 2 are not, then obviously it hurts the sentiments and it is disappointing. But it's been only a couple of rotten eggs in the Pakistan team and its only an allegation so lets wait for everything to happen. Just because of 3 or 4 bad apples you can't only blame the game and people who love the sport, you can't look at every game with a suspicion. Its not fair!