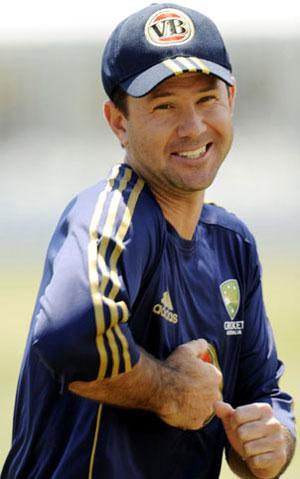 Taking a potshot at Shahid Afridi for tampering the ball during the fifth ODI in Perth, Australia skipper Ricky Ponting said the Pakistani all-rounder's action ended up costing his side a rare victory on what has been a nightmarish tour for the visitors.
Whitewashed in the Test series and trailing 0-4 in the one-day series, Pakistan's misery was compounded when Afridi, who was the stand-in captain in place of an injured Mohammad Yousuf, was caught biting the ball during the fifth and final ODI at the WACA Ground in Perth on Sunday.
Afridi was subsequently banned for two Twenty20 matches after pleading guilty to the charge.
Ponting said the ball-tampering incident took Afridi's mind off the proceedings on the ground, which ultimately helped Australia clinch the match by just two wickets and blank Pakistan 5-0 in the series.
"As soon as the Afridi thing happened, the umpires acted really well and changed the ball straightaway," Ponting said.
"I think he himself must have realised when they changed the ball, he had actually been caught in the act. He would have had all sorts of things going through his mind for the last couple of overs and as captain you have enough going through your head without worrying about things like that," he added.