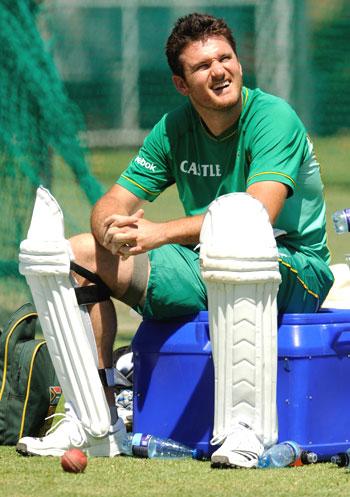 India will start the forthcoming Test series as favourites but South Africa is good enough to dethrone them and regain the world number one tag, visiting captain Graeme Smith said in Nagpur on Monday.
"Beating India in India is always a difficult task. In my nine years of international cricket, I have always found India to be a very formidable opponent. So they will definitely start as favourites here," said Smith in his first interaction with the media after arriving.
"But we have also done well in the past in the subcontinent and would try to play better cricket and beat them.
"We have been doing well in the last two years and we hope to bring that confidence in this series. India are currently the number one Test team but we hope to take away that status from them in this series," said the left-hander.
Smith said his team-mates have fair idea about the conditions awaiting for them in the Test series starting on Sunday.
"The conditions here will also not be easy. There will be low bounce, pitch will turn more and would assist reverse swing. But we also have quality batsmen in our team and it would be a good challenge," he said. Even though spin remains India's traditional strength, Smith said his team would not lag far behind in the slow bowling department.
"We also have a good spin attack in JP Duminy and Paul Harris. The players have been together for quite sometime now and the results are reflecting in their positive mindset. It is a great opportunity for us knowing that not many teams have tasted series victory in India," the Protea skipper added.
The South African team will play Board President XI in a two-day warm-up match starting here tomorrow and Smith said the game comes as an opportunity for his side to acclimatize with the tricky Indian conditions ahead of the Test series.
"We are excited to play the series and we have five days to go. The two-day match will be important as it would be an opportunity to jam and acclimatise ourselves, make our brain work in the right way," Smith said.
The second and final Test would be played in Kolkata from February 14-18 before the two teams fight it out in the three-match ODI series starting February 21 in Jaipur.