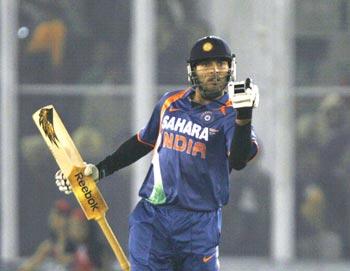 After senior Indian batsman Sachin Tendulkar turned down their offer, English county club Middlesex are now trying to sign his explosive team mate Yuvraj Singh for the domestic Twenty20 Cup later this year.
"We have been in talks with Yuvraj about the possibility of him playing Twenty20 cricket this summer," Angus Fraser, Middlesex's director of cricket, told Cricinfo.
"The contract is not in place at this moment in time, but we're in communication, and it seems to be going quite positively," he added.
Tendulkar had refused the club's offer to prolong his international career.
The Twenty20 Cup group stages are scheduled from June 1 to July 18 and the final will be played in August.
Middlesex won the Twenty20 Cup in 2008.