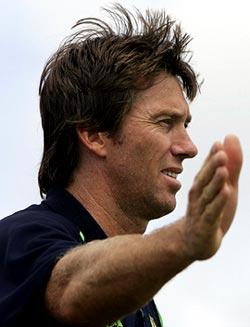 Glenn McGrath has found love again -- eighteen months after the tragic death of his wife Jane.
According to the Daily Telegraph, the former Australia fast bowler has been dating a woman named Sara for about two months now.
The couple was photographed in a Sydney restaurant Dee Bees.
Graeme Goldberg, Dee Bees' owner, said that Glenn seems to have found happiness again.
"They are a couple," a website quoted Goldberg as saying.
"They held hands and sat right out the front in full view. They arrived together, stayed two hours and left together.
"She was absolutely charming and they made a delightful couple. I am very happy for them," Goldberg added.