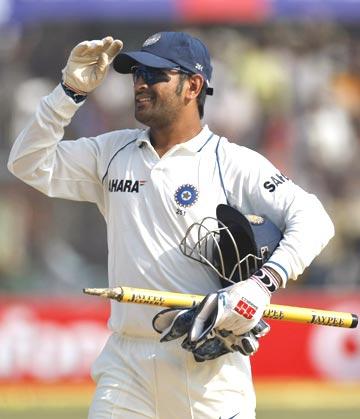 This saga of an Indian captain began in a Test against a visiting South African side.
The home team, down 0-1 in the series after a demoralising defeat in the second Test at Motera, had suffered another setback when captain Anil Kumble was ruled out with a recurring groin injury.
The stakes were high. The third and final Test at Green Park (Kanpur) was a must win game. And an ad hoc appointment wasn't only a need but also a necessity.
The Indian think tank played it safe by making a predictable reinforcement – handing over the reigns to Mahendra Singh Dhoni.
The Ranchi player was by then already a successful captain in the shorter versions – having guided India to a surprise win in the inaugural Twenty20 World Cup (in South Africa) and following it up with a superlative triumph in the Commonwealth Bank series, where India upset world champions Australia in two consecutive finals.
But his pedigree and leadership qualities in the longer -- and toughest -- version of the game remained untested. Some critics had even questioned value of his presence in the Test squad during that time.
Dhoni, however, remained composed.
"In Test matches you don't really have to trust your instincts (as he usually does in the shorter versions) because you have enough time on hand to do things," he observed.
To his credit the young leader handled his players rather effectively; made good tactical decisions and ensured optimum utilisation of the given resources to secure a series-equalling win against the in-form South Africans.
It was a winning start.
Further injuries, and the subsequent retirement of Kumble, meant Dhoni's appointment became permanent sooner than expected. Test series wins against Australia, England, New Zealand and Sri Lanka (and Bangladesh) followed.
And almost two years and 10 Tests, excluding the Bangalore and New Delhi Tests where Kumble captain and the Tests he has missed owing to injury, later Dhoni is back to face the team against which his saga began -- South Africa.
On this occasion he leads the Indian side not as an ad hoc appointment but as a leader with a bolstered reputation.
Dhoni is yet to lose in the 11 Tests (including the one at Kanpur), having won eight of them, and has (in less than two years) taken India to the summit of Test cricket. And it is this credentials that worries his South African counterpart.
"He made his debut as a Test captain against us," says Graeme Smith with a smile. "And he was certainly more composed than I was when I made my captaincy debut at just 22," he adds.
Smith, however, realizes that the stakes on this occasion are equally high as well -- with the No.1 ranking in Tests up for grabs. And he's ready with his strategy to counter the India, his prime target being his opposite number.
"We definitely know more about him (as a player/captain) now and in this series we will try to keep him under pressure throughout," says Smith, adding, "We realize he is a key figure in this Indian squad and by putting pressure on him we can put pressure on his side as well."
Dhoni, on his part, remains seemingly unperturbed.
"We go into a match with a mindset of winning it," he says, slightly giving away the reason behind his success. "We do not think much about the ranking and focus instead on our performance.
If Dhoni is able to maintain his unbeaten run as a Test captain, will be known in the next couple of weeks. What is known at present is the fact that the saga of Dhoni as a team leader is a hugely successful one thus far.