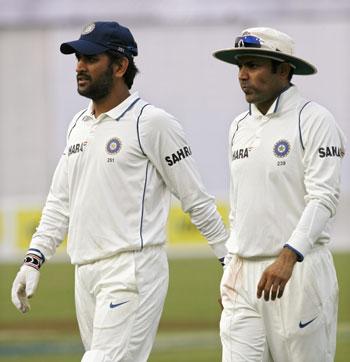 On a day when the visiting side dominates play, the captain of a home team is usually at a loss of words.
For if it is difficult to explain a poor effort, it is almost impossible to justify a lack of it. And the situation worsens when you realize deep within that your team had the opportunity to control the shots, only to let it go.
Dhoni's predicament was no different.
Day one of the opening Test match between India and South Africa on Saturday had gone entirely in favour of the latter -- it was a day when the visitors had controlled 84 of the 91 overs bowled. 
And considering India let go the advantage that they had created in the remaining seven overs -– at the start of the day when they had reduced South Africa to six for two -– explanation was a difficult thing to do.
Dhoni to his credit put up a brave face, defending his bowlers lackluster effort throughout.
"I would say we bowled quite a disciplined line but to their credit they batted very patiently," said the Indian catain, adding, "Their batsmen need to be complimented for the manner in which they applied themselves.
"If on such tracks a batsman is looking for an odd bad delivery (to hit) you cannot do much."
Dhoni admitted the wicket behaved in the manner that was expected and that their strategies didn't work as per plans.
"It was a slow wicket and considering that we bowled decently well," explained Dhoni.
"There wasn't much in the wickets for the quick bowlers anyways and Mishra did a containing job.
"We were forced to employ a semi-defensive field but that didn't work for us. In fact nothing did," he added.
The captain also defended the decision to give rookie Wridhiman Shah a debut when India already was a bowler short.
"We had to look at the options we had at our disposal," justified Dhoni. "One was to push Laxman through but he was only 60 per cent fit.
"Rohit suffered a sprain just 15 minutes before the match and so we had no time to get a replacement. Therefore, we opted for Saha," he explained.
With South Africa placed comfortably at 291 for two at stumps on day one, the Indian captain found it difficult to explain the future course of action.
"Every session will be crucial now," he quipped. "It is important now to contain them if we are not able to get wickets."
The last statement was probably an accurate reflection of his team's confidence levels after Saturday's vapid effort.