For a batsman who has played close to 15years and who has to his credit close to 11, 000 runs and 34 centuries in Test cricket, not having scored a single double hundred might come in as something of a dampener.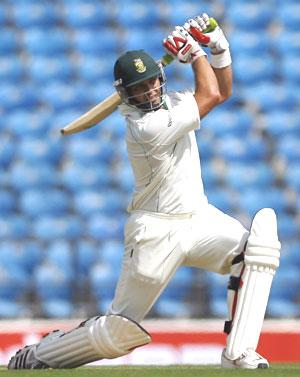 And the inability to convert any of those 34 hundreds into a double is something of a failure.
But if Jacques Kallis is to be believed, it is not a concern at all.
"Not at all," said Kallis, when asked if the fact that he missed out on a double hundred yet again at Nagpur on Sunday bother him.
"The media thinks about it more than I do," said the 34-year-old all rounder. "If it happens to me it is a good thing.
"If it doesn't, I am not going to think much about it," he added. Kallis, who made 173, blamed the Indian bowling partly for his slow scoring rate on the second day of the Nagpur Test.
"They bowled wide of line to me in the beginning," he pointed out, adding, "They were very negative."
The veteran was, however, pleased with his team's effort and refused to buy the argument that this match might be a repeat of the Chennai Test when the Proteas toured in 2008 - when SA put in 540 batting first up and the home team responded with 627.
"We wanted to get to a total of around 550 to 600," he said. "And this wicket has deteriorated a lot more than that Chennai track did that year.
"Tomorrow morning is going to be a crucial period. There's a lot of rough out there and the Indian batsmen are close to danger zone," he added.