After their disastrous show in Australia, Kamran Akmal and Salman Butt were not included in a new-look team for two Twenty20 internationals against England later this month in Dubai.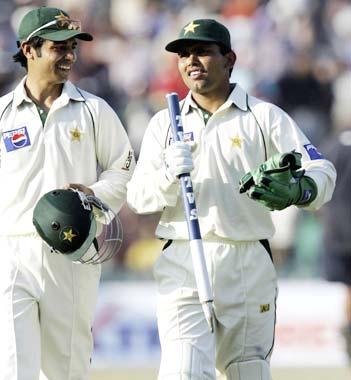 Pakistan coach Intikhab Alam, who has a two-year contract with the board that does not end until October this year, will also not travel with the team to Dubai as he faces an inquiry after the disastrous tour of Australia.
Alam has been replaced for the matches by former Test batsman Ijaz Ahmed, who has been assigned the role of batting and fielding coach.
The 14-man squad announced by selectors will be led by all-rounder Shoaib Malik and also does not include pace bowler Mohammad Asif, as the UAE has refused to revoke a travel ban on him.
"We tried to get clearance for him from the authorities in Dubai so that he could play as he is our key bowler but it didn't work out," a spokesman for Pakistan's cricket board said.
Pakistan have also recalled all-rounders Abdul Razzaq and Yasir Arafat and play the second match on February 20.
Shahid Afridi was named in the squad but will not be available for the first match on February 19 as he is serving a two-match ban for ball-tampering against Australia earlier this month.
Meanwhile, Pakistan Cricket Board chairman Ejaz Butt ruled out any further action against Afridi, saying that the board cannot penalise him again for the same offence.
"We can't penalise him again as he has already been banned for two matches by the ICC. There is not doubt what he did was totally unacceptable and brought a bad name to the team," Butt said.
Pakistan squad:
Imran Nazir, Imran Farhat, Khalid Latif, Umar Akmal, Shoaib Malik (captain), Shahid Afridi, Yasir Arafat, Abdul Razzaq, Sarfraz Ahmed, Umar Gul, Muhammad Talha, Fawad Alam, Wahab Riaz, Saeed Ajmal.