Having taken a career-best bowling figures during the course of a day ensures a player remains in good spirits long after the day's play is over.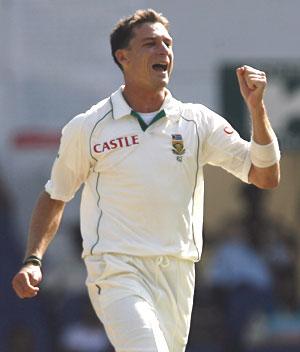 And even if asked the questions he has been asked on many occasions before, he willingly answers them again.
Dale Steyn was in a similar upbeat mood after his superlative bowling effort on day three of the Nagpur Test on Monday.
The 26-year-old had had career-best figures of seven for 51 - besting his six for 49 against New Zealand at SuperSport Park in 2007 - and had ensured India collapsed from 221 for four to 233 all out in just 7.4 overs after tea in their first innings.
It was the 13th occasion that the speedster had had a haul of five or more wickets in an innings of a Test, and the second time against India - after his five for 23 at Motera in 2008.
And his mood in the press conference afterwards reflected his performance on the field. So, he didn't mind answering again some oft-repeated questions regarding his bowling.
"Between lunch and tea, it was not a good period for us. At tea, we had a team talk with Corrie (Van Zyl) and we came out on a positive frame of mind," explained Steyn, when asked what worked for them so well in the final session of play.
The speedster admitted it was a regular team meeting and the ensuing pep talk but something had managed to rejuvenate him and his colleagues ahead of the final session on the given day. Steyn also didn't hesitate to admit that a change of ball had worked wonderfully well to his side's advantage.
"We had the ball changed, it started to reverse and a couple of lucky dismissals started the roll," he said. The subsequent questions were palpably related to the manner in which the bowler had used the reverse swing to his advantage in the day.
"I had already said before that reverse swing is going to play a key role," reiterated Steyn, adding, "In conditions like this, when there's no sideways movement, you can only expect the ball to do something through the air."
Despite his good start in the morning and undoubtedly good finish, there was a period in between when he was pitching the ball up and the Indian batsmen were frequently hitting him to the boundary. Steyn attribute that to aggressiveness.
"As a bowler you now that when you pitch the ball up to a batsman you can be driven to the fence," he explained, adding, "But on the positive side, you might also get an inside edge."
The 26-year-old went on to elaborate his answer.
"I don't mind being hit down the ground or nicked past the slips because I know I stand a chance to get a wicket at any time," he said.
"It's a definitely a risk worth taking," he added.