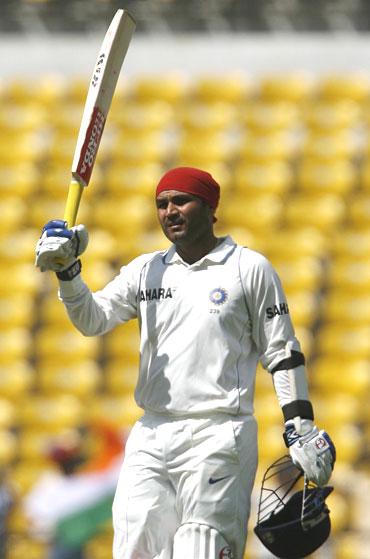 It is a difficult to do the explanation on a day when nothing has gone in your team's favour.
Team India's plight on Monday was no different.
Having witnessed South Africa post a mammoth 558 for six (declared) in their first innings in the first two days, the hosts' response was disappointing to say the least.
They could muster only 233 in their first innings, after being 221 for four at one stage. To make matters worse, they lost both their openers before stumps (66-2) on day three to have the ignominy of an innings defeat staring at their face.
Explaining the collapse was a tough ask. And the person sent to do that was the one who impressed the most in an otherwise vapid batting display.
And to his credit Virender Sehwag did put up a brave face, trying to remain positive ahead of the impending negative result.
"We'll try hard. And hopefully we can draw the match," he said, when asked if it was possible now for India to get something out o this match. "Sachin is still there and is playing well.
"And I think we have good enough batsmen to do the job but they just need to be patient," added Sehwag.
The opener didn't hide his disappointment at the Indian batting collapse.
"We are obviously disappointed that we couldn't have many good partnerships," he explained, adding, "It was not that difficult a wicket to bat on but we managed just one 100-plus partnership. And that wasn't enough."
Sehwag was, however, quick to give credit to the bowler who plotted the Indian downfall -- Dale Steyn.
"I think Steyn bowled really well," admitted Sehwag, adding, "Especially his dismissals of Murali Vijay and Sachin were great, in one case the ball came in and in the other, it went away."
The veteran admitted though that a change of ball after tea had helped the South Africans considerably.
"The old ball had got soft and the umpire accepted their request for a change," explained Sehwag, adding, "And the new ball benefitted them."
With the pitch deteriorating with each passing day, batting isn't going to be easy. But Sehwag nonetheless remained hopeful of a positive outcome.
"The wicket isn't going to get any better for sure," he said. "The only thing we should do is to try and spend more time at the wicket," added Sehwag.